One of the most popular events was a walking tour of mosaics of Boston's Southend led by Lisa Houck and Suzanne Owayda. In case you missed it, here are the details on each mosaic, complete with Google Map links so you can go on your own tour anytime you like. Enjoy these unique and beautiful mosaics of Boston's South End!
---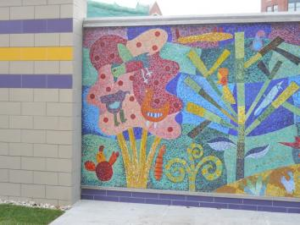 A Friendly Flock Touches Down, Artist: Lisa Houck  Frieda Garcia Park, 38 Stanhope Street, Boston
https://goo.gl/maps/MgojDcqZnep  2 panels, 8 x 8 feet and 8 x 22 feet, Mexican smalti, Dedicated April 29, 2013
Lisa Houck created these mosaic murals by working with children from three area organizations: United South End Settlements, Ellis Memorial and the John Hancock Childcare Center. The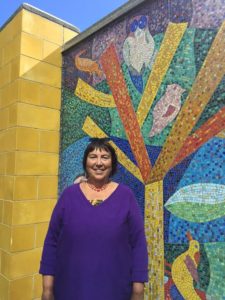 children created drawings, prints and collages of birds and these birds were incorporated into Houck's design of fanciful trees to create a magical forest for this children's park. The mosaic was fabricated by Unicorn Art Studio in New York, and was packed into crates and stored forover seven years before the park was completed and the mosaic was installed. The design for the park changed during those years, requiring the creation and design of an extra section of the mosaic. The project was funded by John Hancock Insurance Company.    More info: http://www.publicartboston.com/content/friendly-flock-touches-down
---
Betances Mural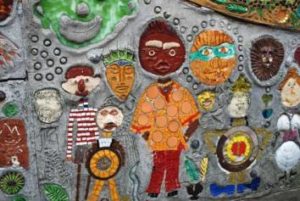 , Artist: Lilli Ann Killen Rosenberg
Villa Victoria, Aquadilla Street, Boston, 
https://goo.gl/maps/aUDLYmbUJiM2   
14 x 45 feet, Concrete and clay tiles, mixed media, Completed 1979
The Villa Victoria housing community was founded in the early 1970s, when a group of South End residents, most of Puerto Rican descent, lobbied to maintain their community in the South End despite widespread gentrification and redevelopment of the area. After its completion in the mid-1970s, Villa Victoria was hailed as an unusually successful housing complex, thanks to its desirable living spaces and close-knit, active community. Residents founded and participated in a variety of programs including tutoring, gardening, and operating a closed-circuit television channel.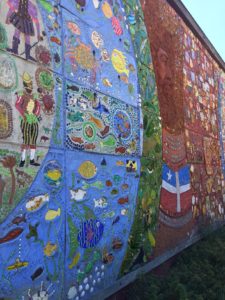 This mural was created with the support of the Villa Victoria tenants' association, Inquilinos Boricuas en Acción, to embellish the Villa's central gathering place. Lilli Ann Killen Rosenberg, assisted by Nora Valdez and Roberto Chao, created the mural with the help of Villa Victoria residents, children as well as adults, who made the ceramic tile pieces. Ms. Rosenberg traveled to Puerto Rico before
making the mural to "gain a better understanding of the culture and history of this community." The mural fe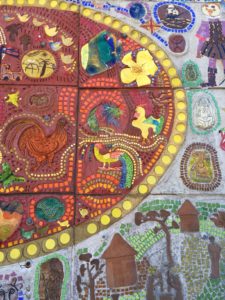 atures Ramón Betances, known as the 'father' of Puerto Rican nationalism for his revolt against Spanish rule. It also includes images of Puerto Rican history and references to the culture of the Villa Victoria community.One of its inscriptions reads, "Let us know how to fight for our honor and our liberty," referring both to Betances and his struggle for independence and to the more recent political activism that inspired Villa Victoria's founding. Rosenberg's technique, as described on her website, was "to embed a variety of materials in concrete using color and texture, sometimes carving into the concrete or casting with it."  More info: http://www.publicartboston.com/content/betances-mural
---
St John Baptizing Christ, Artists unknown
St John the Baptist Hellenic Orthodox Church, 15 Union Park Street, Boston
https://goo.gl/maps/ZDMC4SHiRcN2
Byzantine-style mosaic made of smalti; fabricators and date completed unknown.
Byzantine medieval art began in the mid 1400s with mosaics decorating the walls and domes of churches, as well fresco wall-paintings. This approach was taken up in Italy, especially in Rome and Ravenna. A less public art form in Constantinople was the icon (from the Greek word 'eikon' meaning 'image'): holy images made with encaustic wax paint on portable wooden panels, which were developed in the monasteries of the Eastern Roman Church. Icons were filled with symbols and flat areas of color and didn't try to be realistic.
St. John the Baptist church was designed in 1861-62 by N.J. Bradlee. It was originally a Unitarian Church where Edward Everett Hale—an abolitionist preacher who wrote Man Without a Country—preached. At the turn of the century, the building became Temple Ohabei Shalom, which served the Jewish community until 1929. Since then it has been the St. John the Baptist Hellenic (Greek) Orthodox Church.
The center mosaic depicts St. John baptizing Christ. The hand of God and the dove are important symbols. These depict the Holy Trinity: God, Jesus, and the Holy Spirit, which is represented by the dove. The inscription says "The Baptism" in Greek. The two side panels depict angels.
---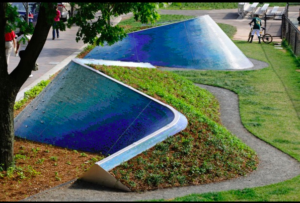 LandWave, Artists: Shauna Gillies-Smith, Michael Kilkelly, France Cormier

Peter's Park, 1277 Washington Street, Boston
More info: http://www.landwave.org/LandWave/Home.html
2-7 feet high and 48-49 feet long (650 sq feet total area)
Completed 2011, Mosaic glass tile on a sculpted concrete surface
LandWave is located on the southeast edge of Peters Park on a linear strip of land between the baseball field and the Washington Street sidewalk. The installation commemorates the historical location of the very thin neck of land that once connected the Shawmut Peninsula to the mainland.
The mosaic recalls the site's evolution from water to land. Two wave-like landforms are covered on one side with green groundcover, while the other is covered with a range of blue mosaic tiles that emulate the texture and color of a wave, creating a metaphorical wave of land and water.    More info: www.landwave.org
---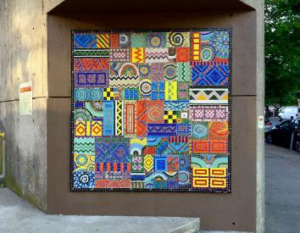 Community Fabric, Artist: Christos Hamawi 
Josiah Quincy Elementary School, 885 Washington Street, boston
https://goo.gl/maps/ZMv3oRhL1rR2, Completed 2016
Community Fabric is comprised of sixty unique hand-cut glass tile panels and designed to simulate a stitched fabric quilt. The mosaic "fabric" represents the stitching together of many different a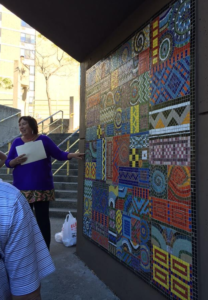 spects of our community into one. While diversity is a key theme of the mural, the core message is unity. Christos Hamawi completed several of the more complex mosaic panels in his studio and collaborated on the construction of the remaining panels with over 150 students from the Josiah Quincy Elementary School. Most students worked in teams, guided by Christos in the entire mosaic creation process, and taught about the history of mosaics. Students followed a detailed design guide crafted by the artist and were challenged to interpret the designs and color schemes as closely as possible using the available mosaic materials. Christos then combined all sixty panels together as one.

"We need to continue to support arts education to help foster the artistic temperament that shapes and defines our culture, promotes peace and prosperity, enriches our community, and builds bridges of understanding around the world. This mural is dedicated to all those that contribute their time, skills, and resources to help make our community stronger."  -Christos Hamawi, June 20, 2016  http://www.publicartboston.com/content/community-fabric
---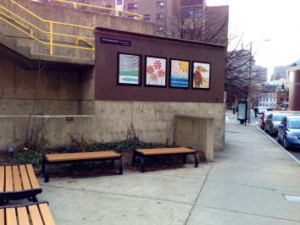 The Living Seasons, Artist: Christos Hamawi
Josiah Quincy Elementary School, Oak Street between Washington and Tremont Streets, Boston    https://goo.gl/maps/ZMv3oRhL1rR2
Porcelain and glass tiles, over 2,000 hand-cut pieces, Completed 2013
Christos Hamawi's influences include ancient Greek, Roman, and Moorish mosaics, as well as ceramics. He is also very interested in Iznik ceramics which he saw in Istanbul. He has traveled to Greece, Italy, Croatia, Turkey, and Spain and has found inspiration in all of these places.
Hamawi used Tec Superflex exterior grade flexible cement to adhere the tiles to Hardy concrete backerboard. He loves this material for the climate of the Northeast. Hamawi said, "My goal is to ensure that my mosaic murals last hundreds of years."
More info: http://www.publicartboston.com/content/living-seasons
---