NEMS Member's Classes and Workshops
If you are a current member of NEMS and would like us to include your upcoming workshops please contact Beth Goulet at Bgoulet13(Replace this parenthesis with the @ sign)gmail.com

Title: Mosaic Art Design
Date: Five Tuesday nights Sept 10 to Oct 8, 2019
Location: Mosaic Oasis Studio & Supply
Cost: $165
Please see mosaicoasis.com for more information and to sign up 
---
Title: One day  Mosaic  workshop  using Smalti & Marble  with Pam Stratton
Date: Saturday September 21 | Time:  9:00 am-5:00 pm
Location: Rockport, MA
Cost: $185 includes all supplies and lunch
Read Description and Register at:  PamStrattonMosaics.com
---
Title: Make Your Own Mosaic Jewelry 
Date: October 10, 2019 | Time: 7:00 pm – 9:30 pm
Location: Amy Marks Mosaic Studio, 111 Riverview Ave, Waltham, MA 02453
Cost: $45
Read Description and register at:  
https://www.signupgenius.com/go/10c0c4eaba623a7fc1-mosaic5 
---
Title: Make Your Own Mosaic Jewelry 
Date: October 14, 2019 | Time: 7:00 pm – 9:30 pm
Location: Amy Marks Mosaic Studio, 111 Riverview Ave, Waltham, MA 02453
Cost: $45
Read Description and register at:  
https://www.signupgenius.com/go/10c0c4eaba623a7fc1-mosaic5
---
Title:  Mosaic Mandala Design with Dianne Sonnenberg
Date: Oct 19 & 20, 2019
Location:  Mosaic Oasis Studio & Supply
Cost: $380
Please see mosaicoasis.com for more information and to sign up
---
Title: Mosaic Collage Using Tempered Glass
Date: Three Monday nights starting on Oct 21, 2019 
Location: Mosaic Oasis Studio & Supply
Cost: $155
Please see mosaicoasis.com for more information and to sign up
---
Title: Make Your Own Mosaic Jewelry 
Date: December 12, 2019 | Time: 7:00 pm – 9:30 pm
Location: Amy Marks Mosaic Studio, 111 Riverview Ave, Waltham, MA 02453
Cost: $45
Read Description and register at:  
https://www.signupgenius.com/go/10c0c4eaba623a7fc1-mosaic5
---
Title: Art by Alina – a series of one night art classes, take one or take them all!
Dates: Various evening and Saturdays though the summer, see links
Location: Mosaic Oasis Studio & Supply
Cost: Various
Please see word doc and calendar, or please see mosaicoasis.com for more information and to sign up 
---
Title: Classical Andamento in Modern Mosaics, with a Lesson in Hammer and Hardie with Anabella Wewer
Date: Every day! (Online course)
Location: In your own space, at your own pace
Cost: $295
Description: The principles andamento are explained in this online course, along with detailed explanations of the proper way to cut using hammer and hardie. View an intro video free of charge and register at:  https://mosaicartsonline.com/p/proper-use-of-hammer-and-hardie
---

This course is also included in the Andamento bundle, along with "Andamento: The Language of Mosaics" at a 15% discount at https://mosaicartsonline.com/p/bundle-classical-andamento-andamento-the-language-of-mosaics-with-anabella-wewer
---
Title: Andamento: The Language of Mosaics
Date: Every day! (Online course)
Location: In your own space, at your own pace
Cost: $249
Description: Application of the principles of andamento taught in my first course, with multiple options to achieve different effects while maintaining strict andamento. See intro video at no charge and register at 
https://mosaicartsonline.com/p/andamento-the-language-of-mosaic-with-anabella-wewer
This course is also included in the Andamento bundle, at a 15% discountat https://mosaicartsonline.com/p/bundle-classical-andamento-andamento-the-language-of-mosaics-with-anabella-wewer
---
Title: Mosaic Coaching with Deb Aldo
Date: Ongoing | Time: We both pick a time that suits
Location: Phone/your studio/possibly mine
Cost: $150.00/3 sessions, or longer packages possible 
Description : If you could fix one thing, what would it be? I can help you with design/composition, workmanship, cutting, working in stone, pebble and or Dalle de Verre or any other material. Have had students win awards, up their game and have a blast in the process. Individual attention, assignments to improve, review and reworks. Email me for more information- deb.pietredure(Replace this parenthesis with the @ sign)gmail.com
---
Title:  Mosaic Mandala Design with Dianne Sonnenberg
Date: Oct 19 & 20, 2019
Location:  Mosaic Oasis Studio & Supply
Cost: TBD, sign up coming soon!
---
Title: Classical Andamento in Modern Mosaics, with a Lesson in Hammer and Hardie with Anabella Wewer
Date: Every day! (Online course)
Location: Wherever your computer is, in your jammies, if you want
Cost: $295
Read Description and Register at: https://mosaicartsonline.com/p/proper-use-of-hammer-and-hardie
NEW ENGLAND MOSAIC SOCIETY MEMBER'S TEACHING STUDIOS
If you are a current member of NEMS and would like us to include a general studio listing for the bottom on this page, please email your information and one photographs to: Cassie Doyon at kcdoyon(Replace this parenthesis with the @ sign)gmail.com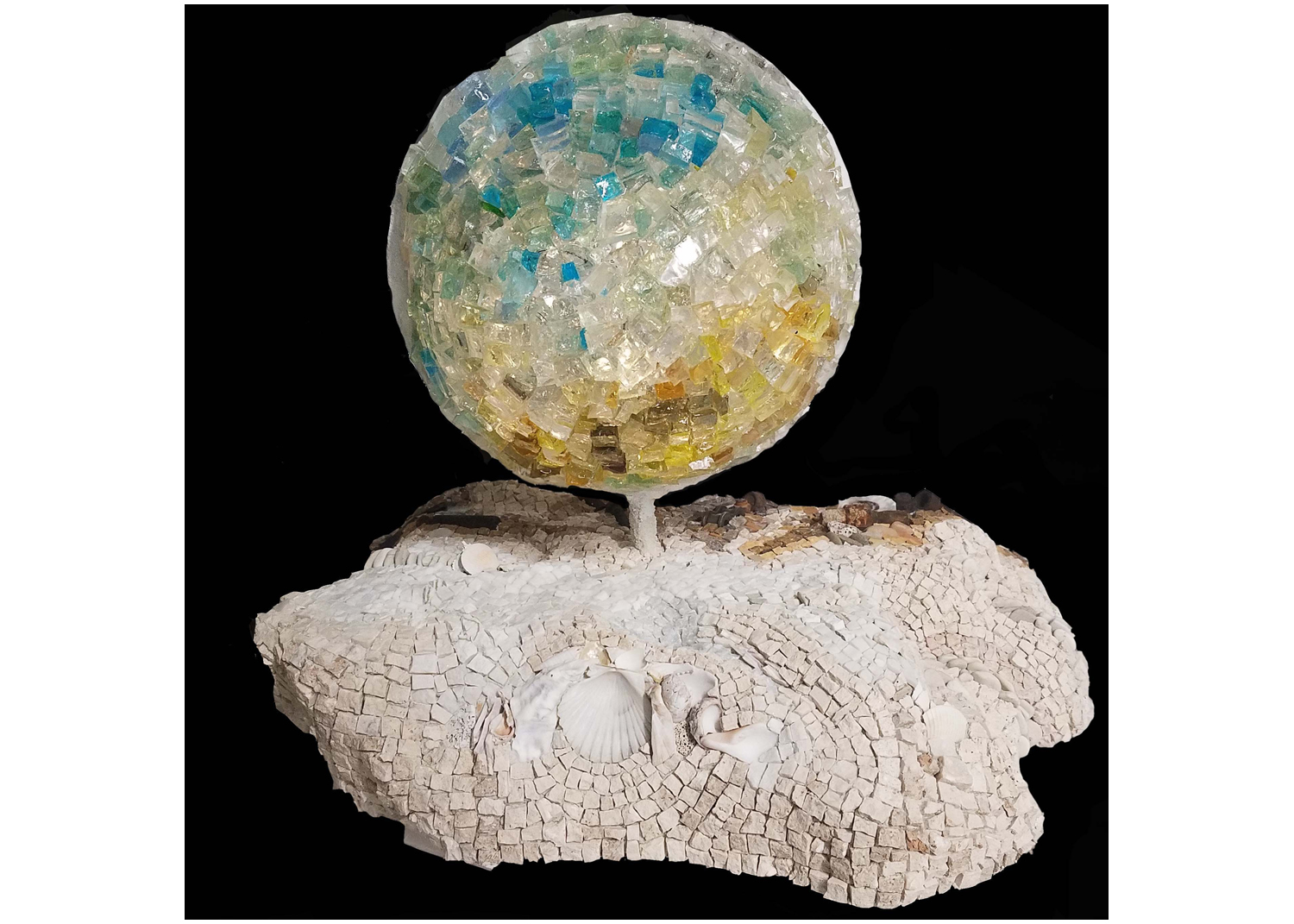 Pietre Dure Design
Classes are taught across the USA. Check www.pietreduredesign.com for times and locations. Let me know if your group wants a class, I'll come to you. Classes offered in Design, Pebble mosaic, Stone and Dalle de Verre or private lessons tailored to your level and interest.
Art Coaching and Consultation on landscape design, mosaic placement and projects is also available. Email for info!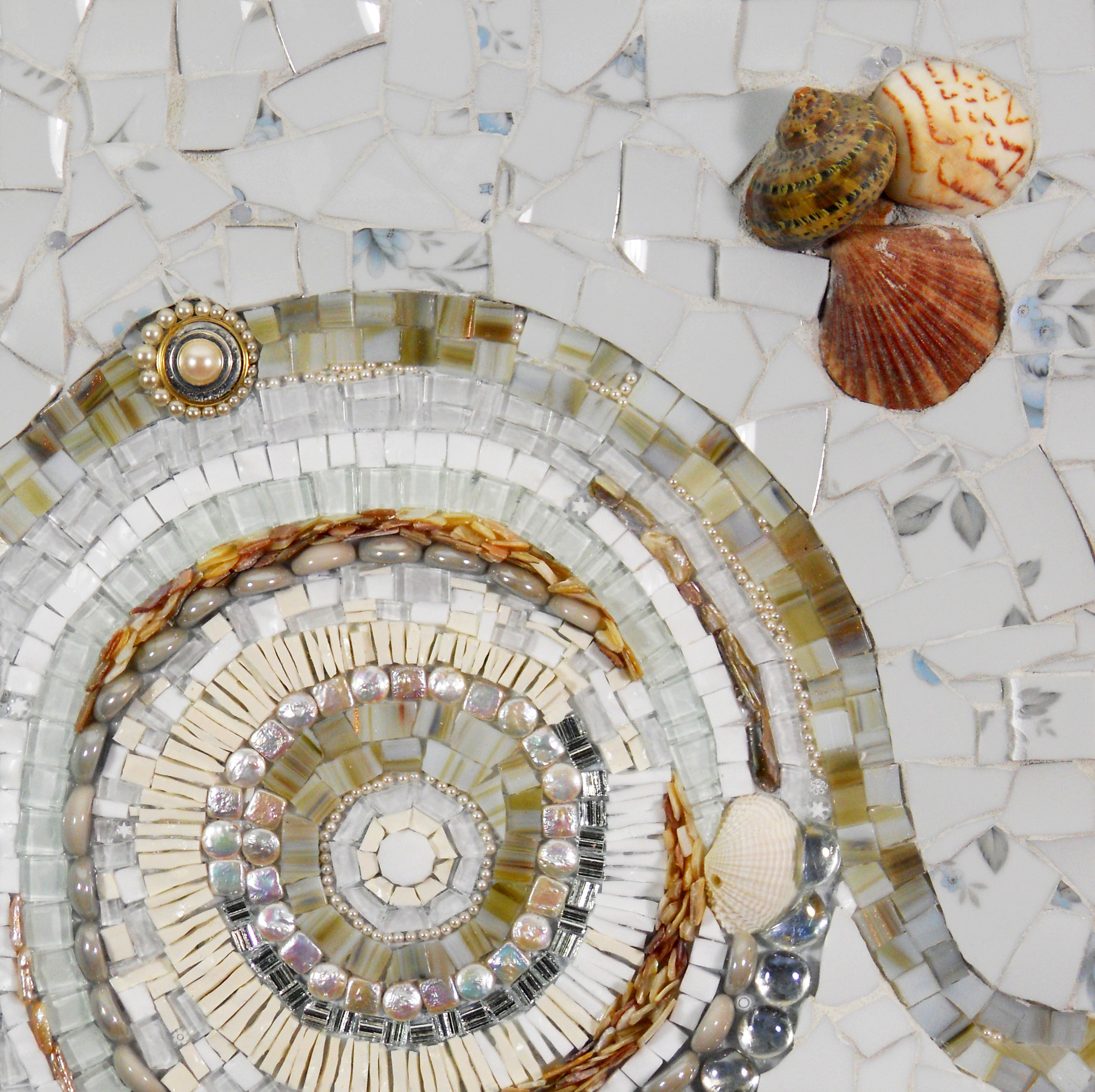 Cheryl Cohen Mosaics
Mixed media mosaic studio in the Metro-West. We offer classes for all levels, to adults and children ages 8 and up including:
Weekly Tuesday morning and Thursday evening classes
Ladies' Night Out monthly
Open Studio Saturday monthly
Birthday parties, holiday parties and special events
Children's after school and vacation classes
Classes include all supplies and the supplies are endless, come check us out!
Cheryl Cohen Mosaics Art Center
360 Woodland Street, Holliston, MA 01746
508-612-4183 www.cherylcohenmosaics.com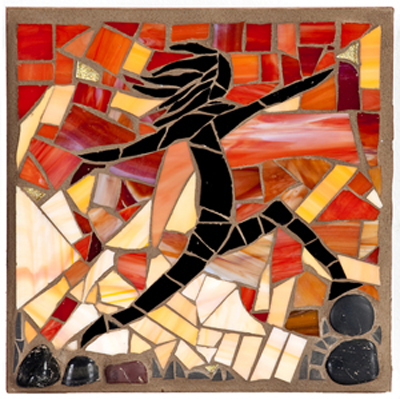 Christine Kenneally
Workshops for Adults in Easthampton Massachusetts
Visiting Artists Workshops
Mosaic Tables – students work in the indirect or double indirect method to create a mosaic table top! Tables are provided. (eight week series, full this fall, but will be offered again)
Mosaic Stepping Stones – students create mosaics and cast them in concrete to become unique conversation pieces for a garden, patio or walkway. (4 hour class)
Please visit www.christinekenneallymosaics.com for more information and to register.
Chromatile By Cecilia Kremer

Explore the art of mosaics and surprise yourself with the professional mosaic pieces you'll be able to create.
Two ongoing mosaic classes, with the most extensive and inspiring selection of tiles that you can imagine, meet on a weekly basis throughout the year. In these workshops, suitable for all levels, you will work on a project of your choice and at your own pace. If you are a beginner, you will start by learning basic mosaic techniques, such as design, cutting, adhesives, setting/layout of tiles, and grouting. You will have plenty of examples to get your ideas flowing. If you are an intermediate or advanced student, you will advance and refine your skills by practicing your own techniques and develop new ones. Your creativity, whether apparent or somehow hidden, will surprise you.
For more details and registration, please go to www.chromatile.com
CHROMATILE BY CECILIA KREMER
Contemporary Mosaics, Newton, MA
617-513-0906 cecilia(Replace this parenthesis with the @ sign)chromatile.com
Building a Landscape with Color & Texture workshop with Laura Rendlen
Mosaic Oasis Studio & Supply
Mosaic Oasis Studio & Supply is the Boston area's only mosaic studio and retail supply store specializing in mosaic tile and tesserae for both the crafter and mosaic artist. We have a variety of classes for beginning mosaic artists to more experienced mosaic artists.
Information about all of our classes can be found on our website: mosaicoasis.com
1189B Massachusetts Ave, Arlington, MA 02476
Regular Classes
Mosaic Taster Class: a one-time introductory class offered 4 times per week and costs $45.
Mosaic Art Design Class: our most comprehensive class in which students learn to design and make a 8″ by 10″ mosaic art panel, costs $155. We offer this approximately 4 times a year. For more information please see our website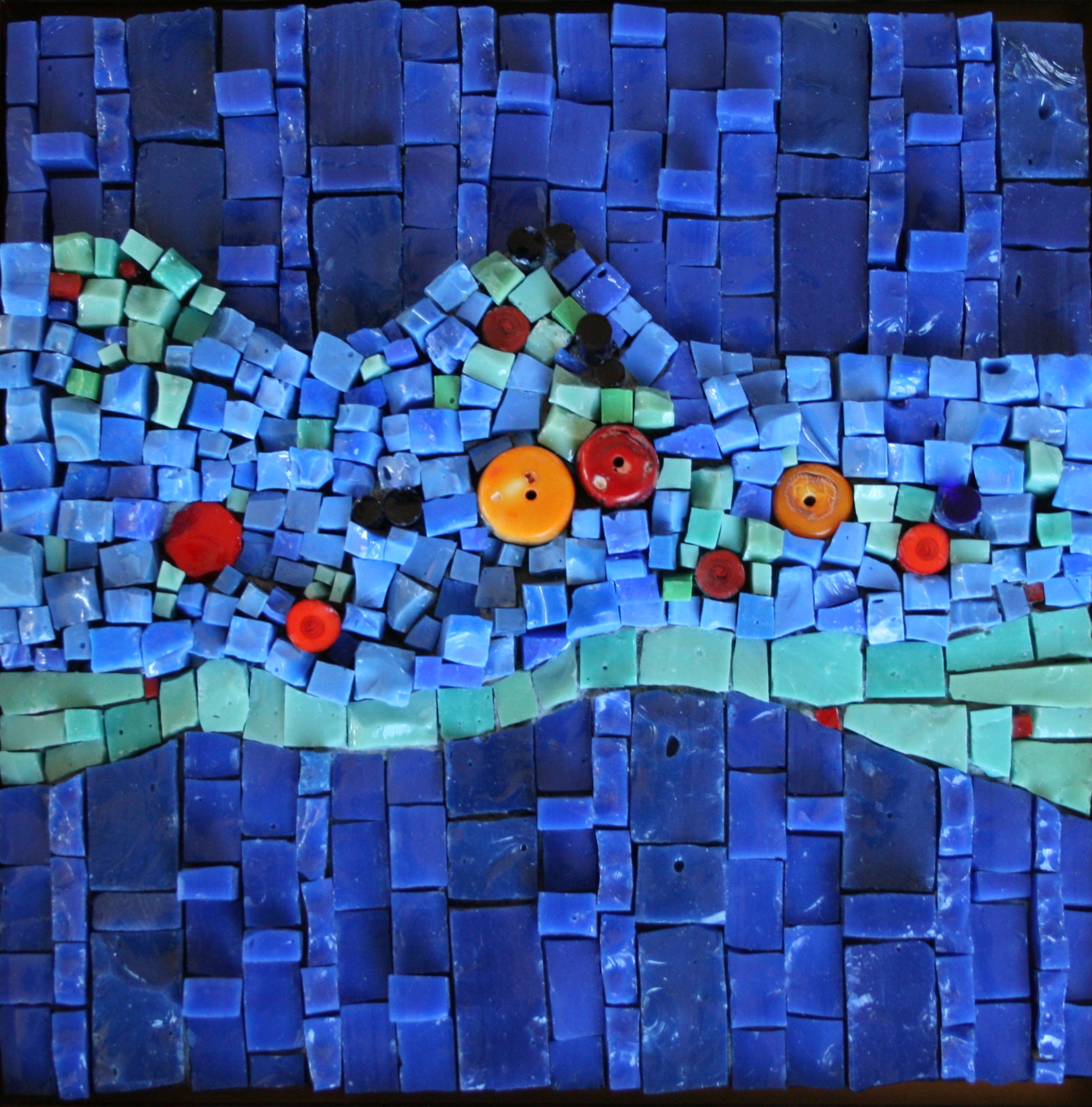 Pam Stratton
One Day Mosaic Workshop taught by Pam Stratton
I offer one day workshops in which you complete a small project in smalti, stone or mixed media. All information provided in class is printed in a packet for you to take home so your time is spent creating your mosaic. Class is geared to beginner and intermediate mosaic artists. Tools and a large inventory of smalti and stone are provided. Hammers and hardies are available if you wish to try them. A lovely lunch is included.
For more information go to: pamstrattonmosaics.com
Cost: $175
16A Prospect Street , Rockport, MA 01966