New England Mosaic Society Annual Meeting followed by the Member Exhibition Reception
Everything You Need to Know…
The 2019 Annual Meeting is fast approaching and we have scheduled a great afternoon of activities! Please RSVP through SignUp Genius link below so we can properly prepare for all attendees.
Let us know you are coming… https://www.signupgenius.com/go/30E0B4BAEAD2FA3FE3-2019
•  When/Where The 2019 NEMS Annual Meeting is Sunday September 22nd from 12:00-4:00pm at the Yamawaki Art & Cultural Center at Lasell University. The Center is located at 47 Myrtle Avenue, Auburndale, MA 02466
•  The All Member Lasell Exhibition Reception immediately follows the meeting at the Wedeman Gallery on campus.
•  Travel/Parking: Lasell University has ample parking available. Please follow campus parking and building entrance signage.
---
What's Happening?
12:00-12:15 Doors Open (Supply drop off, setup, networking opportunity)
12:15-1:00 Welcome and President's Report: Accomplishments of 2019, Goals of 2020, Committee Introductions
1:00- 1:30 Presentations #1. Creating and Organizing a Community Project: Art in the Orchard with Laurie Frazier. #2. Future Opportunity: Guatemala Project with Cynthia Fisher.
1:30-2:00 Brain Break! Refreshments and Networking
2:00-2:15 Presentations #3 Project Inspiration: A Mosaic a Week with Emily Bhargava.
2:15- 3:15 Station Demonstrations 1. Incorporating Polymer Clay with Amy Marks 2. Working in the Indirect Method with Cynthia Fisher 3. Mosaic Jewelry with Cheryl Cohen 4. Membership Dues, Raffles, Supply Swap "Hoarding Table"
3:15-3:45 "Town Hall" discussion: The Future of NEMS, data collection/feedback
3:45-4:00 Raffle drawing and Wrap-Up
4:00 Transition to start of All Member Exhibition Reception
---
Renewing your Membership for 2020: It is strongly suggested that you renew your 2020 Membership prior to attending the Annual Meeting. This will prevent long lines and wait times for processing payments and paperwork in person. Membership (online or in person) prior to or on September 22nd will be discounted to $35. Membership after September 22nd will be $40.
Click here to join or renew your membership
---
Supply Swap/Hoarding Table: As we all probably know, creating mosaic art can lead us to be mosaic supply hoarders! Sometimes we need to clean out our studios and pass on what we think is not going to ever get used although we had all good intentions when we bought it. We are having a table set up at the meeting for a bit of a mosaic supply 'swap meet.' Feel free to bring your unwanted mosaic collectables to share with our members. And of course, take more! (because we are hoarders, remember?) Kind of a leave one, take one. Or two. Or several! Please have all tiles, glass or what not in clear plastic bags or containers. NO grout, thinset, colorants or anything that could be messy. No junk. Please make sure clear baggies and containers are securely sealed. No opening them to pick out what you really want. Whatever is left over at the end of the meeting, Nikki will donate to the local thrift shop. Or anyone who teaches classes is welcome to the leftovers for their students.
---
Raffles: We have many raffle opportunities this year! Raffle 1: 50/50 cash split between Winner & NEMS – Tickets $10 each
Raffle 2: $100 materials gift card (donated by NEMS)
Raffle 3: $100 materials gift card (donated by NEMS) Yes, two chances! 🙂
Raffle 4: $100 voucher towards a 2020 class by Amy Marks (generously donated by Amy Marks!)
Raffle 5: One 20-minute mosaic coaching session with Deb Aldo (generously donated by Deb Aldo!)
---
Refreshments: Light refreshments will be served at the Annual Meeting as well as the exhibition reception. A full lunch will not be provided, please plan accordingly.
Links (Click or Copy and Paste into your Browser): Let us know you are coming… https://www.signupgenius.com/go/30E0B4BAEAD2FA3FE3-2019
Renew your Membership… http://www.newenglandmosaicsociety.com/membership/
We are looking forward to a great day! Hope to see you there! Please reach out to the Executive Team at newenglandmosaicsociety(Replace this parenthesis with the @ sign)gmail.com if you have any questions.
New England Mosaic Society All Member Show
September 17 – October 5, 2019
Wedeman Gallery, Lasell University, Yamawaki Art & Cultural Center
47 Myrtle Avenue, Newton, MA
Reception Date: Sunday, September 22, 4:00-6:00
Application Deadline: August 8, 2019
Application Fee: $45 for up to 3 entires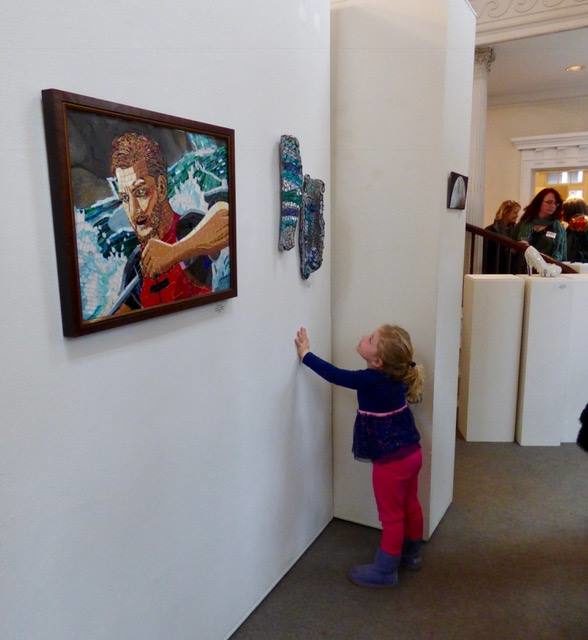 The Wedeman Gallery at Lasell College accepted our proposal for a NEMS Members' Show. We have been invited to exhibit Sept. 12- Oct. 5, 2019.  With your application, each member can submit up to three recent original works. Please, do not include submissions previously exhibited in a NEMS show. From your submission, the jury will select one piece for the show. Artwork will be judged on technique, composition, design, and use of materials.
We will carry on the tradition of recognizing excellence in mosaics by offering awards. The awards will be chosen by the judges, except for the People's Choice award which will be selected by the visitors to the exhibition.
The award categories are:
Best in Show

Artistic Distinction

Technical Distinction

Recognition of an Emerging Mosaic Artist (Artists with 3 years or less experience)

People's Choice 
For more information about the venue hours and directions, click here: 
www.wedemangallery.com
Art In The Orchard
Park Hill Orchard, 82 Park Hill Road, Easthampton, MA
August 10-November 24
Reception Date: August 17 (afternoon)
Check out the Field of Hearts Mosaic Project at this biennial sculpture event. Walk along the winding trails through the orchard's fruit gardens to view the sculptures. Over 25 mosaic artists from the New England Mosaic Society (NEMS) will be exhibiting 3-D mosaicked hearts.
July 15 – Aug 4 Installation by Appointment
August 10 – Nov 24 Exhibition and Events
August 17 Opening Reception
September 14 Full Moon Walk
November 24 Closing Day
TBD Awards Ceremony & Festivities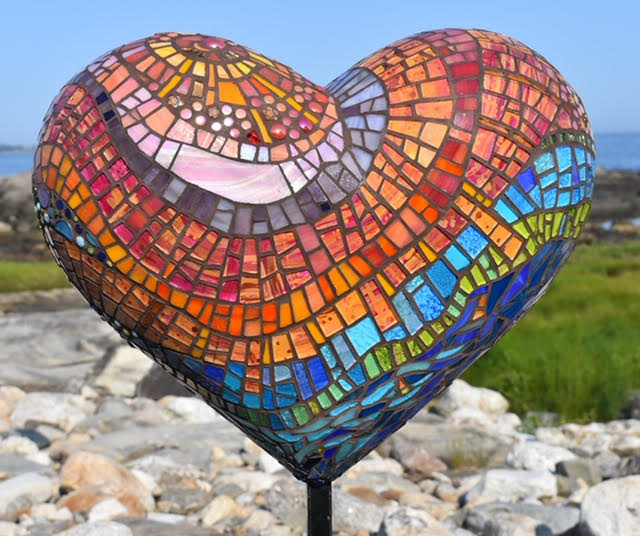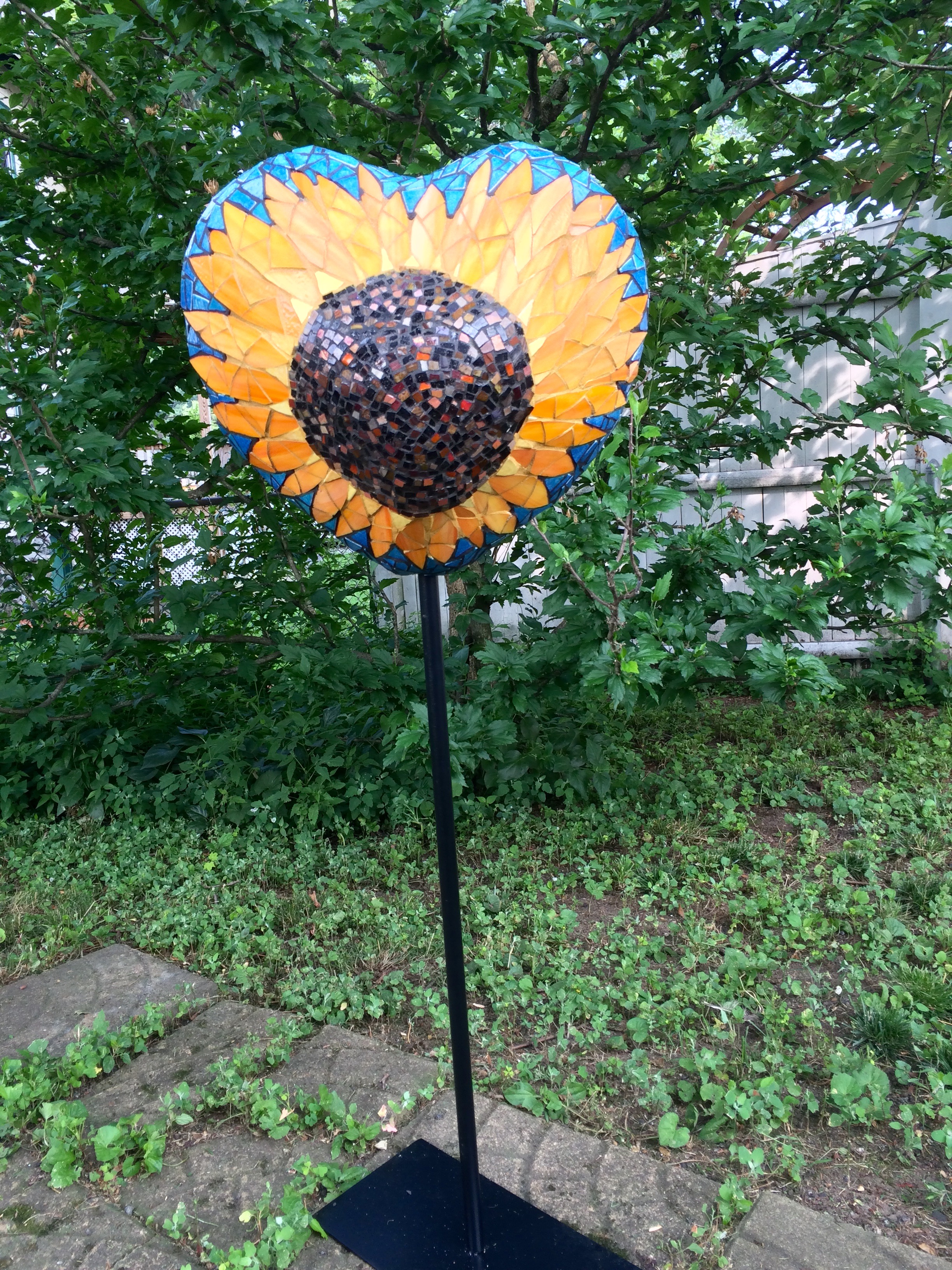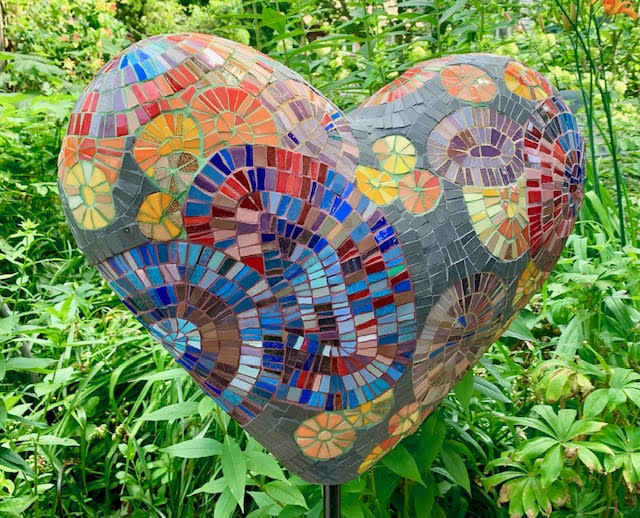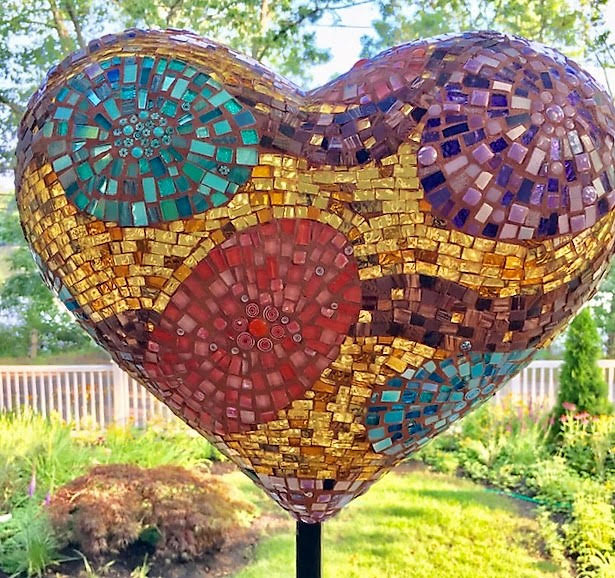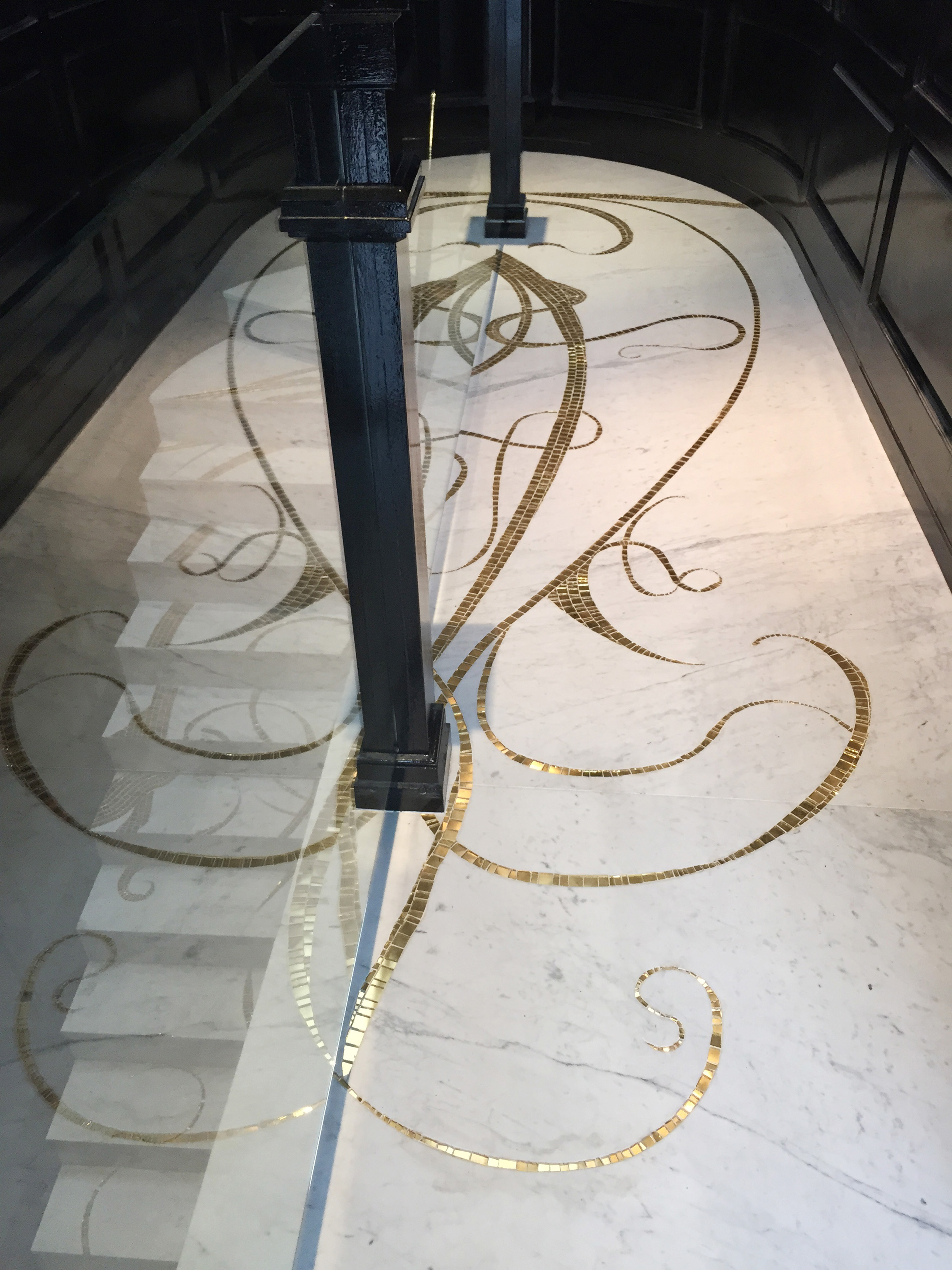 NEMS Online Webinar Series: How I Made It – SOHO Penthouse Gold Mosaic & Marble Floor
Speaker: Cathleen Newsham, Creative Director & Founder, Modern Mosaic Art
This Webinar occurred on Tuesday, May 21st.  If you missed it, click on the link below to view the webinar in it's entirety:
To VIEW WEBINAR, Click Here and you will be brought to YOUTUBE to view the webinar
Cathleen Newsham will provide a step by step description of how she created this stunning floor mosaic for a New York City penthouse.  Unusual and complex in both fabrication and installation, her approach to problem solving and construction issues will help mosaic artists at all levels understand the challenges of architectural mosaic work and how to approach even the most perplexing project.  The tools and materials used will be discussed and participants will have a chance to ask Cathleen questions following the presentation.
NEMS Online Webinar Series: How I Made a 3-D Sculptural Mosaic Garden Bed
Speaker: Carol Krentzman, Artistic Director & Founder, Mosaic Art Institute of Natick
This Webinar occured on Tuesday, March 26th.  If you missed it, click on the link below to view the webinar in it's entirety:
To VIEW WEBINAR, Click Here and you will be brought to YOUTUBE to view the webinar
Carol will take us through the process she used to make her 3-D garden sculpture. She'll discuss how she sculpted the foam and covered it with mesh, concrete and tile. She'll talk about the challenges this project presented and how she overcame them to create a bed that is approximately 4'x 5'x 2′ and weighs about 500 lbs.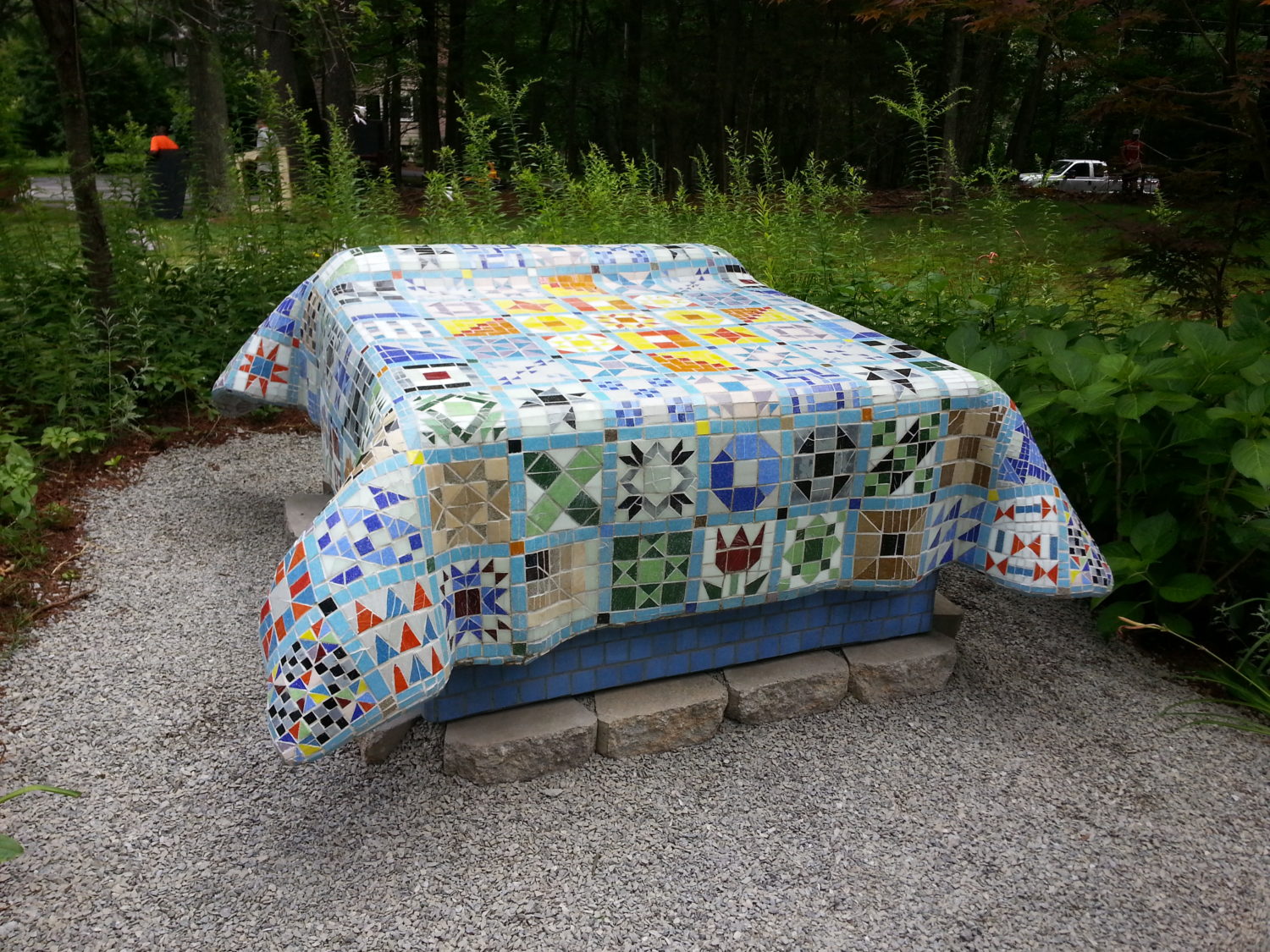 NEMS Online Webinar Series:  All About Substrates and Adhesives
This Webinar occured on Tuesday, February 26.  If you missed it, click on the link below to view the webinar in it's entirety:
To VIEW WEBINAR, Click Here and you will be brought to YOUTUBE to view the webinar
Featured Speaker: Lou Ann Weeks, mosaic artists and cofounder of Skeew.biz, a mosaic supply company that specializes in mosaic backers, co-producer of Mosaic Technique Videos, and editor of I-CMosaics.com.  How do you know which substrate (backer) is the right one for your project, and what is the right adhesive?  There are so many to choose from, and in this webinar, Lou Ann will help you make the right decisions. You'll learn what criteria to consider before you start mosaicking. She'll bring it all together and answer your questions during a Q & A period at the end of the webinar.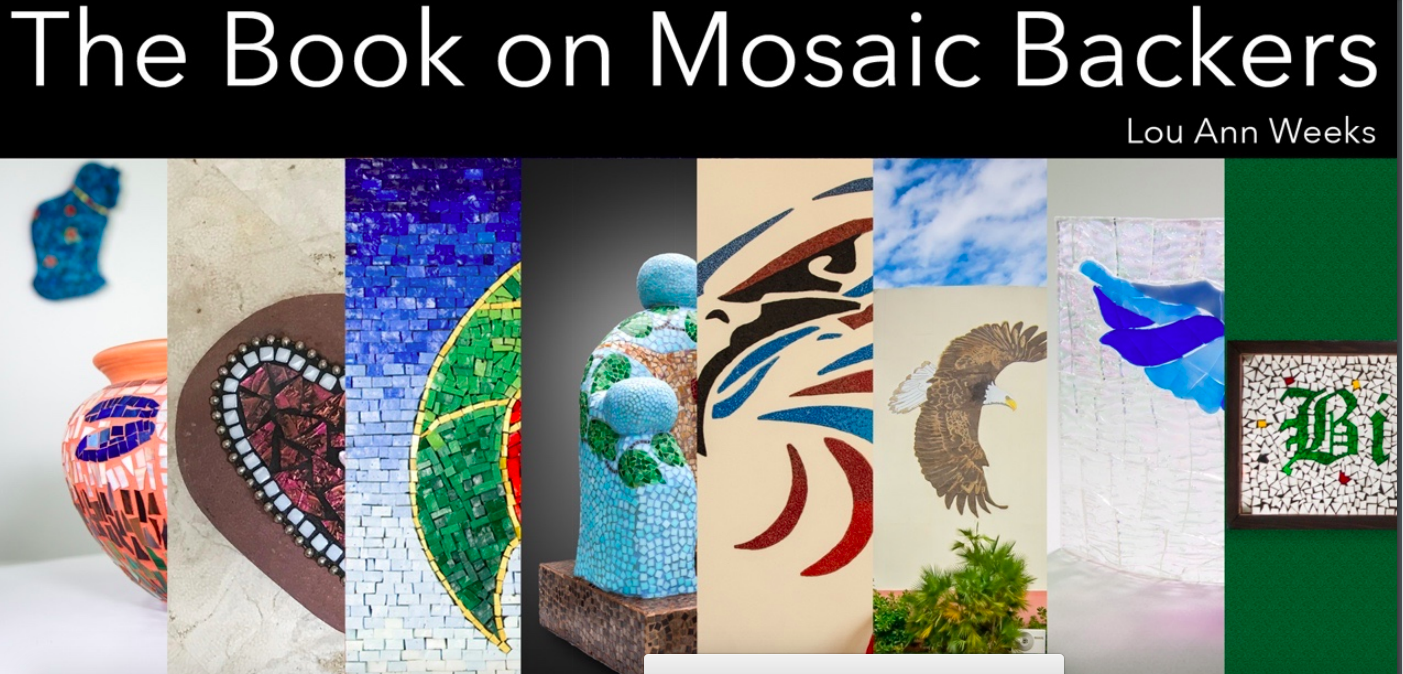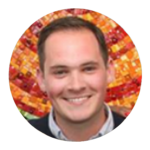 Be Our Guest Interview with Michael Ferreira
NEMS President Michael Ferreira was recently interviewed by Be Our Guest in Acton MA.
Cancellation Policy: 
If you sign up for a NEMS tour or event through SignUpGenius and need to cancel for any reason please take yourself off of the SignUpGenius list. This will help us do final planning for the day of the event or tour. 48 hours of cancellation notice is preferred (for reservations, tickets, etc.). Thank you for your cooperation.