NEMS 2020 Virtual Annual Meeting
Sunday October 4, 2020, 12:00
Everything You Need to Know…
The 2020 Annual Meeting is fast approaching and we have scheduled a great afternoon of activities! Please RSVP and signup for your BreakOut Sessions below by completing the SignupGenius so we can properly prepare for all attendees. Please make sure your membership is up to date so you are able to participate in this year's meeting.We have some AWESOME presentations scheduled for you. Although we have to be digital, this may be our best Annual Meeting yet! You won't want to miss out!
When/Where
The Annual Meeting will be on October 4th starting at 12:00. This year's Annual Meeting will be held via Zoom! Please make sure you are familiar using this platform before attending. We will send the Zoom  link with basic instructions on how to join the meeting and get the most out of it, shortly before October 4.  In the meantime, if you've never participated in a Zoom  meeting, here is a short intro-video "Joining a ZOOM Call for the First Time": https://www.youtube.com/watch?v=9isp3qPeQ0E.The actual instruction begins at 1:10, if you want to skip the introduction. Note that if you want to get the most out of the meeting, we recommend that you participate either using a computer or tablet, something with good video and sound quality and a camera.
What's Happening?
12:00-12:30 Opening/Greeting and President's Report,Committee Reports
12:30-12:45 Election of new Executive Board as proposed by the Selection Committee and current Executive Board
12:45- 1:30 Keynote Presentation: The Ruins Project:Year Five with Rachel Sager
Join Rachel Sager as she takes you on a storytelling tour of The Ruins Project, her giant cement canvas in the woods of Pennsylvania coal country that has become a mosaic magnet for adventurous artists and an inspiration for travelers. For the last five years, The Ruins has been a venue for excellence in mosaic. Contemporary artists and long dead coal miners, meeting each other on the walls and rooms of concrete, telling each other's stories. This specialized PowerPoint tour will be tailored specifically for the NEMS membership and will highlight a special international project at The Ruins called The Hot Metal Wall. To date, almost fifty vintage gears have been used as substrate compositions for mosaic, with more arriving each  month. Nothing at The Ruins is ever quite finished and Rachel is looking forward to extending invitations to the NEMS artists for future collaborations.  As of 2020, over one hundred artists from around the world have made their marks here.The story of how a coal mine became a mosaic movement has been showcased on NPR, a WQED documentary, and In Her Studio Magazine. 
1:30-1:40 NEMS Contribution to Ruins Project: Gear Exhibition with Amy Marks
1:40-1:50 Break 
1:50-2:00 Explain BreakOut Group Presentations 
2:00-2:35 Break Out Session 1: Choose ONE of the following presentations to attend:
Option 1: Realism and Color Theory in Mosaics with Michelle Sider
Michelle is a freelance artist and instructor working in the Detroit area who specialize in detailed and lush glass mosaics, paintings and illustrations. Characterized by a painterly style, she uses beautiful colors, bold designs and expressive content.  Join Michelle in a presentation on her unique process of creating mosaics in her style of mosaic realism. Michelle will cover how she uses color theory and principles of design in her artwork to create a rich beauty and depth that evokes many emotions in the viewer.
Option 2: Marketing Tools and Strategies for Artists with Maria Finkelmeier
Named a "one-woman dynamo" by the Boston Globe, Maria Finkelmeier is a percussion performer, educator, and arts entrepreneur based in Boston, Massachusetts. Along with her performance and leadership activities, Finkelmeier teaches at Northeastern University. Join Maria as she shows you how to market your work efficiently by identifying your target audience and engaging in the right digital and traditional marketing tools to meet your target's needs and interests. 
2:40- 3:05 Break Out Session 2: Choose ONE of the following presentations to attend:
Option 1: Applying for Exhibitions with Michael Ferreira 
Join Michael for a presentation on how to get your work out there! Topics covered will include completing the application process, taking images of your work the right way, and online resources for finding calls for art. 
Option 2: Beading/Mixed Media and Mosaics with Karen Giarrusso
Join Karen for an introduction on the techniques and adhesives used for beading in mosaics! Take your next mosaic to the next level! 
3:10-3:35 Break Out Session 3: Choose ONE of the following presentations to attend:
Option 1: Large Scale Exterior Installations with Deb Aldo
This presentation will focus on contemporary artists who have done large outdoor works in a variety of climates. From always sunny southern California to New England's harsh winter weather. Many but not all of these are not just large scale but are public installations. Most of the images will be the final installation but when possible the construction process will be shown to give a sense of the amount of work that goes into the installations before the final result. In closing one of the projects is community based and we will discuss the possibility of creating a community project for the NEMS members.
Option 2: Arts Integration Residency Process with Ann Thompson
Join Ann for a brief introduction to Arts Integration. Ann will go over how using mosaic and recycled materials can create an affordable and meaningful school residency and description of her most recent residency with Saco Middle School combining art and science and how they pivoted to complete the project remotely due to Covid 19.
3:40-:3:50 Diptych Collaboration Project
3:50-4:00 Raffles, Member of the Year Award, and Executive Board Farewell. 
We tried to fit as much in as possible and still provide breaks. Since this is a digital platform,if you wish to extend a break, you are able to shut off your video and audio and come back at any time.
Raffles
Raffle 1: $100 gift card to Wits End!
Raffle 2: $100 gift card to Mosaic Art Supply
RSVP and Select your BreakOut Sessions here… https://forms.gle/pDwdvxncGMJ9UFAf6
See you October 4th! Please reach out to the Executive Team at newenglandmosaicsociety(Replace this parenthesis with the @ sign)gmail.com if you have any questions.
 NEMS Gear Project

Submission Deadline: January 24, 2021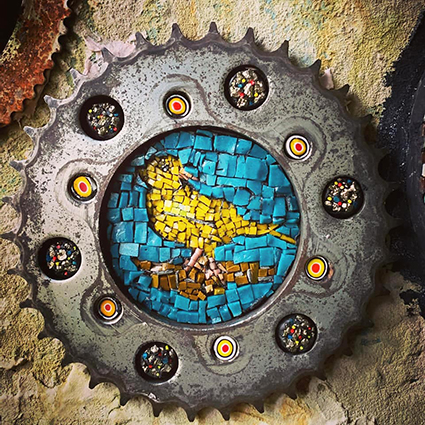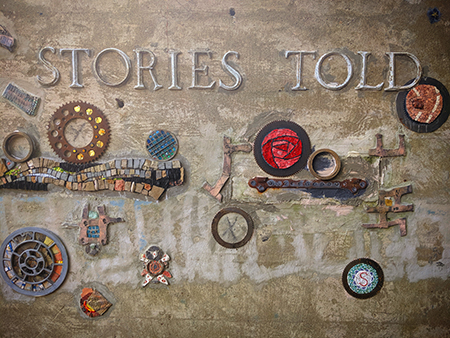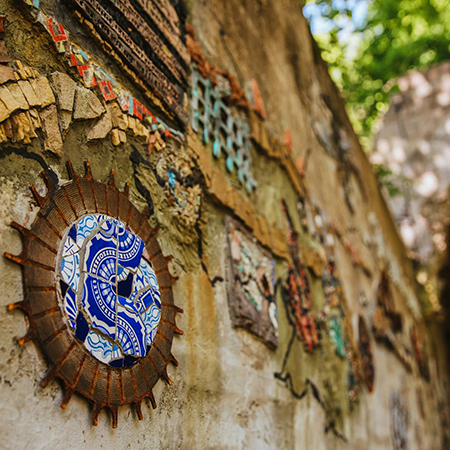 The Ruins Project is a long-term mosaic art installation amidst the ruins of a former coal mine in Fayette County, Pennsylvania. Located on the Great Allegheny Passage, this outdoor mosaic museum attracts artists, students, and travelers from all over the world.
And now, you have the chance to make a bit of history by mosaicking gears that will be installed on the gear wall at the Ruins Project! Rachel Sager, mosaic artist and owner of the Ruins Project, has agreed to dedicate a portion of the gear wall to gears mosaicked by members of the New England Mosaic Society (NEMS). NEMS will be recognized as a contributor to the project rather than individual members.
The Charles River Museum of Industry and Innovation in Waltham, MA has donated twenty gears to members who can pick up the gears in Waltham; available on a first come—first served basis. Gears are also available online on Etsy.com and ebay.com, flea markets (check out the one in Hollis, NH), antique stores (not high end), thrift shops, junk yards, and perhaps even in your attic or garage.
The Charles River Museum of Industry and Innovation expressed interest in creating a virtual exhibit with the mosaicked gears. If we do this, it will be in February/March and the installation at the Ruins Project will be in late spring. Rachel has volunteered to do the installation. However if we want to put together a team to do onsite installation, that is an option. More on this later.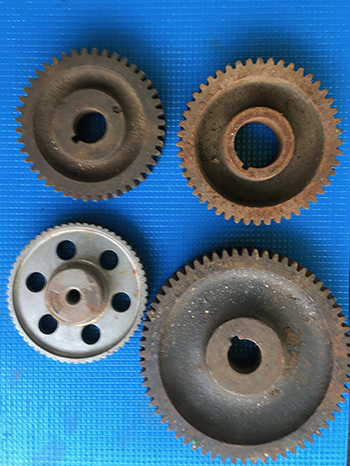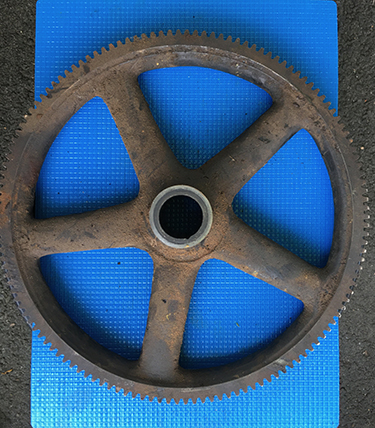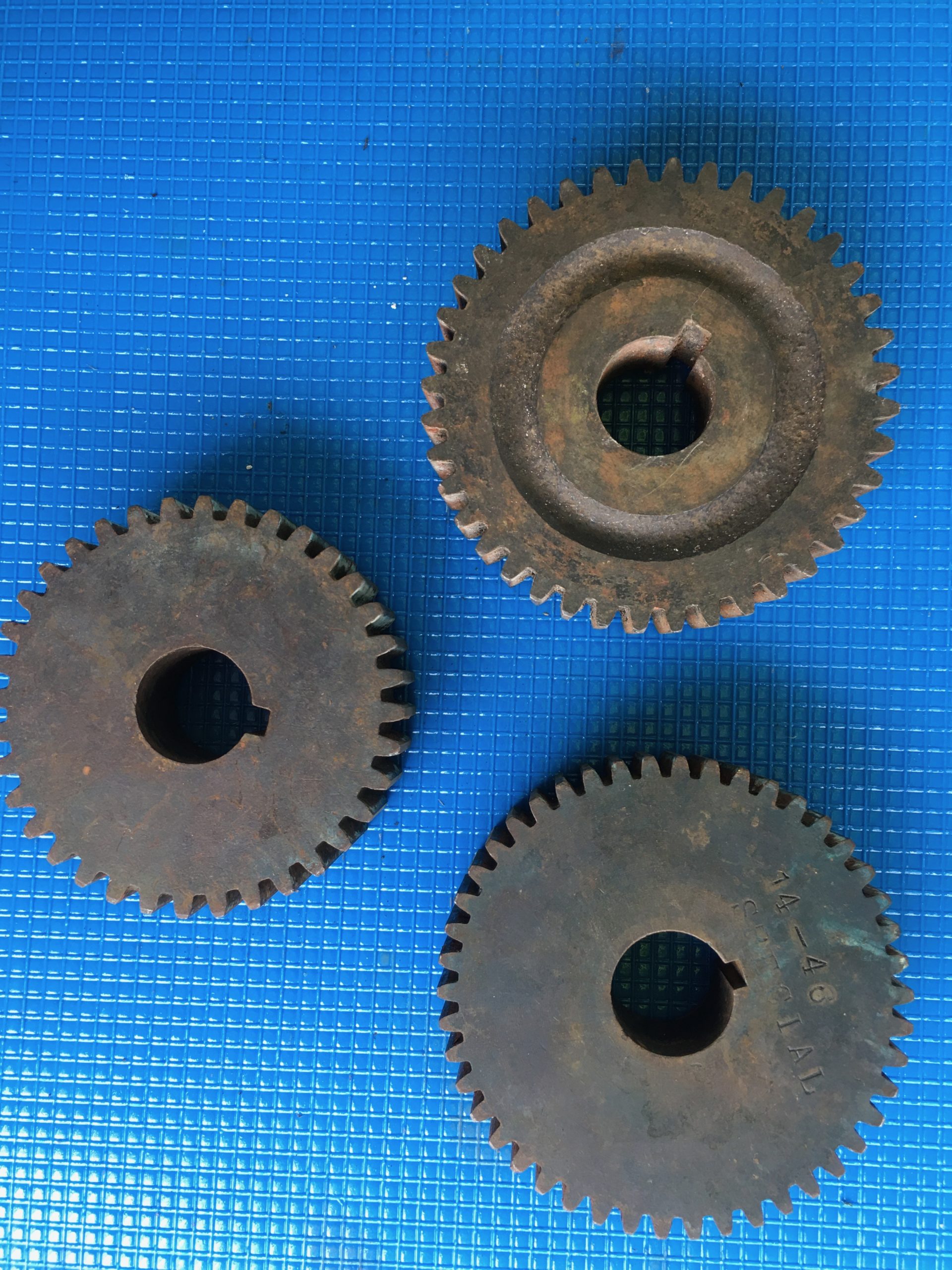 Members' Online Exhibit Spring 2020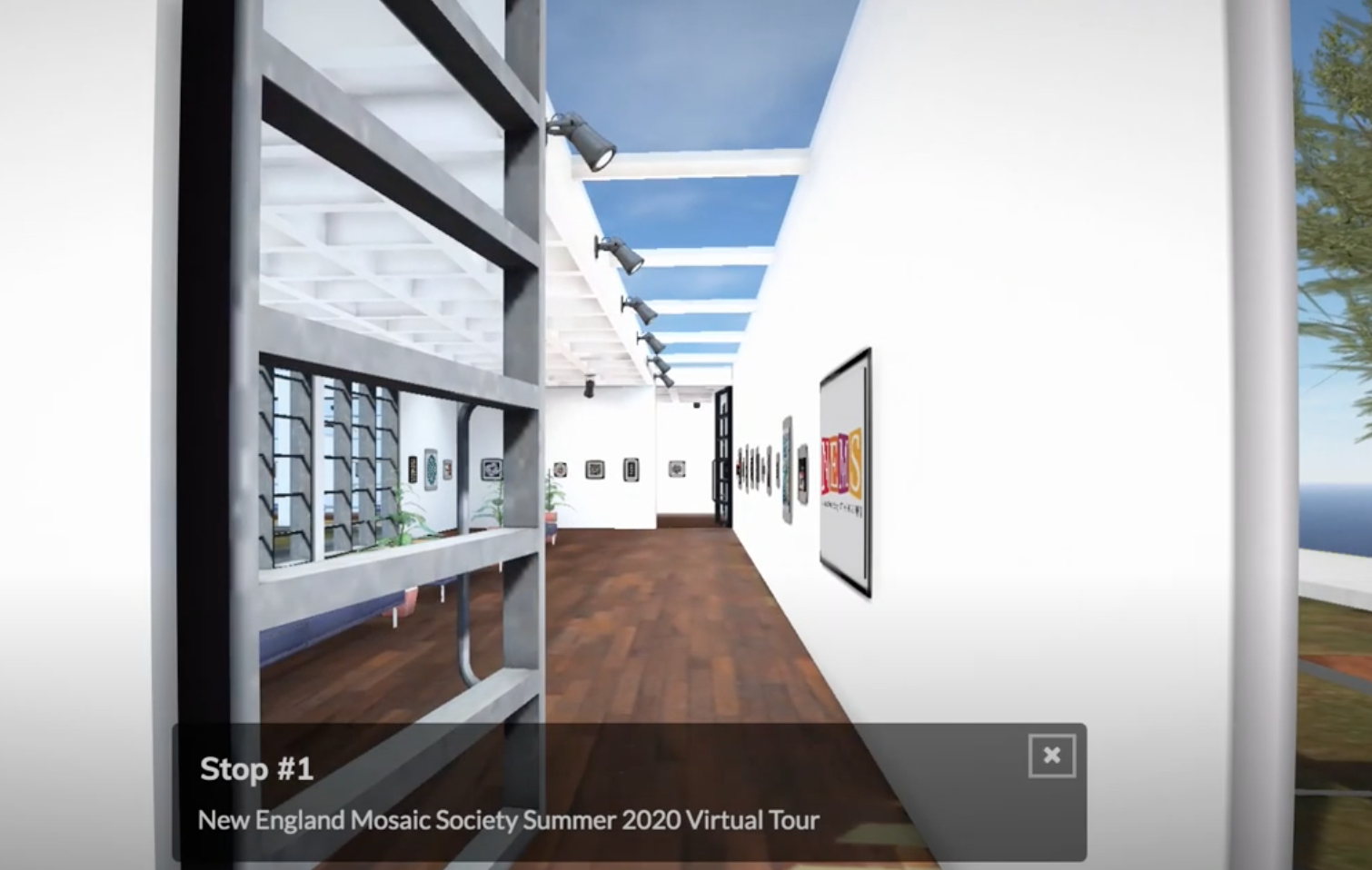 The jurors (Amanda Edwards, Isabel Margolin, and Nikki Sullivan) chose the following award recipients:
Best in Show:
Ruth by Michael Ferreira
Artistic DIstinction (2):
Patagonia by Cynthia Fisher
Tracks in the Snow by Beth Klingher
Technical Distinction:
Killer by Linda Biggers
Best Emerging Artist:
Ruptured by Elizabeth Martinez
People's Choice, TBD – survey to go out to members shortly
Or explore more on your own at our Virtual Gallery – https://www.artsteps.com/view/5e7e2a69f74412182c7d23cf
CLICK HERE TO DOWNLOAD THE EXHIBITION CATALOG
The New England Mosaic Society would like to announce our Members' Online Exhibit Spring 2020, a virtual art show to present and share our mosaic art. During this tough time while COVID19 spreads throughout the country, we'd like to find a way to connect, support each other, and come together as a community. While this is a challenging time for many, we hope that this also an opportunity to use your artwork as a comforting and creative outlet.
We realize that the online viewing experience cannot replace a physical art show. However, since the exhibit will be online, it also gives us the opportunity to have higher exposure than our usual exhibitions. We are depending upon members to help spread the word about the show to a wider community through everyone's social media platforms.
With your application, each member can submit up to three recent original works. Please do not include submissions previously exhibited in a NEMS show. From your submission, the jury will select one to two pieces for the show. Artwork will be judged on technique, composition, design, and use of materials.
We will carry on the tradition of recognizing excellence in mosaics by offering awards. The awards will be chosen by the judges, except for the People's Choice award which will be selected by the visitors to the exhibition.
Mosaic Collaborative Project: A Team Approach to Creating a Diptych
Mosaic Collaborative Project: A Team Approach to Creating a Diptych
Register by Sept 12, 2020
Team up with another mosaic artist to create two original mosaics. Each person starts work on a mosaic and completes one half. Then you swap mosaics with the other person on your team. Your teammate finishes the mosaic you started. The challenge for the second person is to decide whether to continue and compliment the style of the first mosaicist, or contrast. This is an interesting way to work as it disrupts your usual flow and you have to respond to what is there. You get to keep the mosaic you started.
The finished mosaics will be featured at the kickoff of the NEMS Virtual Annual Meeting scheduled in the fall. The show will be a collection of the mosaics created by the collaborative project and is not juried.
Many thanks to BAMM (British Association for Modern Mosaic) and to Marian Shapiro for coming up with this idea!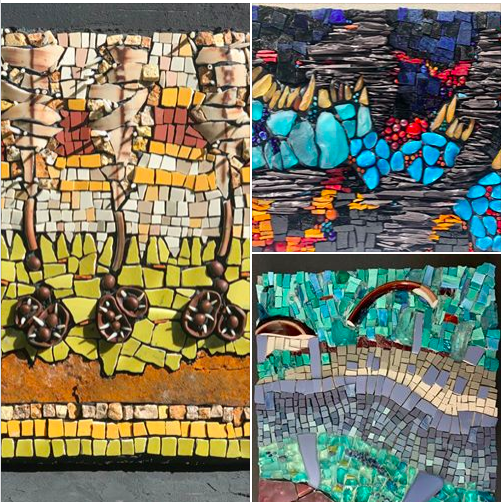 The NEMS PinchPals Project with Bonnie Fitzgerald
Workshop Size: Limited to 15 members
Location: Online via Zoom
Cost: Free
Workshop Dates: August 5, August 19 and September 9
Time: 7:00-8:30 pm Eastern
Register at: 
https://www.signupgenius.com/go/30e0b4baead2fa3fe3-nems10
Bonnie Fitzgerald of Maverick Mosaics will lead a series of three online workshops for a limited number of NEMS members interested in creating mosaics that express what PinchPals (pinched clay figures) stand for: support, compassion, optimism, look out for others and reinforcing an understanding that "at our core we humans are all the same".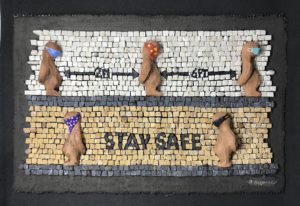 What's Involved?
Educational Workshops
Creation of a mosaic
Online exhibition
Workshops:
The group will meet 3 times via Zoom, 1.5 hours per meeting. The workshop spans a 4 week period in August/September. (August 5-September 9)
August 5:  General introduction, educational component (lecture: andamento, materials review)
August 19: work in progress images, friendly critique, technical questions, conversation (lecture: articulating inspiration, summoning intuition)
September 9: reveal finished works, discuss learning, emotional aspect, etc.
Mosaic:
Size: 12" X 12" is the recommended size. However, size of your mosaic is your personal choice.
Materials: Participants provide materials and supplies
Images: Participant provides images of work in progress and final mosaic
Ownership: Artists maintain ownership of their artwork
Design:
To prepare the design for their mosaic, participants will be asked to go to the PinchPals website to read about the PinchPals mission, watch the videos and look at the blog entries. Bonnie will send you support material for inspiration as well as your very own clay PinchPal. PinchPals images can be used in the design, but are not required.
Online Exhibition:
When the workshops end, Bonnie will promote a virtual exhibition of the mosaics created during the program. The exhibition will be promoted via social media.
Questions or want additional information? Contact Bonnie Fitzgerald at bonnie(Replace this parenthesis with the @ sign)maverickmosaics.com
To learn more about Bonnie and her mosaic artwork and teaching visit www.maverickmosaics.com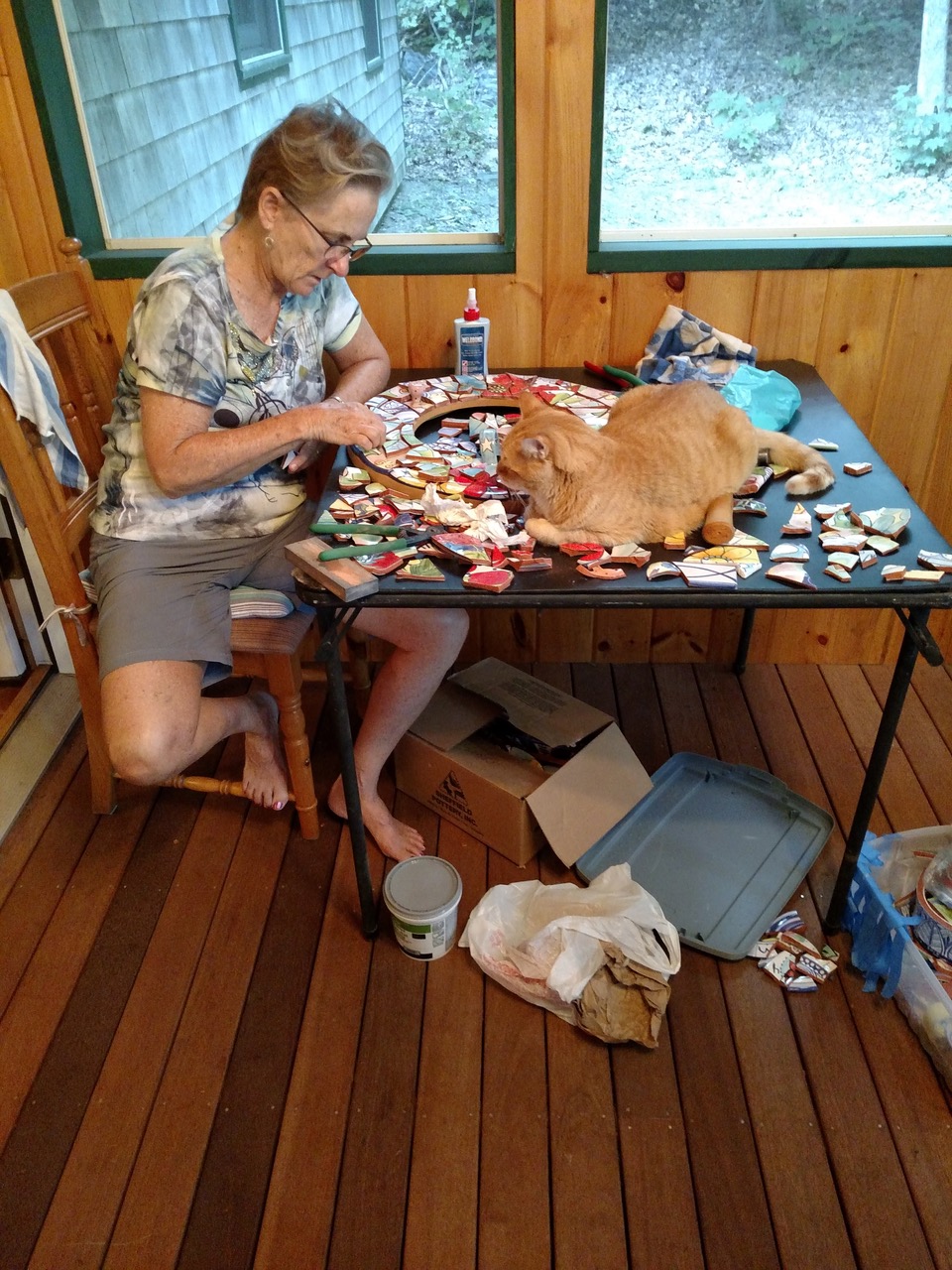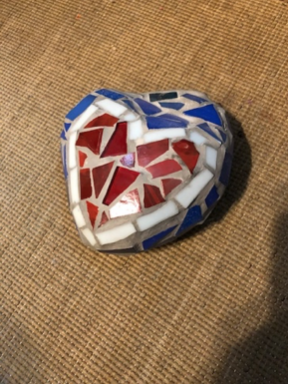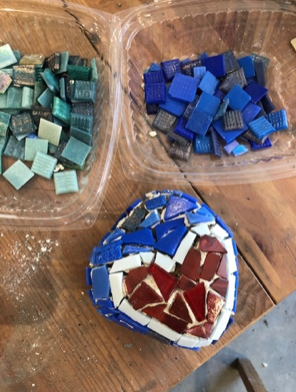 Call for Art
Mosaic Stones in Memory of Karen Edlund
Overview:
Karen Edlund, a founding board member of the New England Mosaic Society, was a powerhouse in the world of public health and reproductive health, community organizing and community building. She meant so much to so many people. Since Karen's passing in November, her husband Phil has been thinking of ways to create a mosaic in her memory. He would like to have the mosaic on Irving street where they lived together for many decades in Somerville, and would like it to be somewhere where it can be seen by passers-by. The plan is to turn the street itself into a mosaic path, with colorful mosaic stones and pavers made in Karen's memory placed at the bases of the city trees all along the street.
Timeline:
We'd like most of the stones to be completed by June 30th, so that they can be in place for the summer.
Size:
There is no official size limit, but keep in mind that the stones will be placed around the bases of city trees in Somerville, so they can't be too big to move or so big that they'll block passage on the sidewalk. If you choose to mosaic a paver, please choose a small one, no larger than approximately 8"x 8". Please also think about the final weight of the stone and how you plan to get it to Irving Street.
Materials:
The stones will be displayed outside, so they have to be frost-proof. In case you haven't done very many exterior mosaics, here are a few key tips for making outdoor mosaics that will last:
• Outdoor mosaics must be made on a frost-proof substrate (something that won't expand and contract) like cement or stone
• There are many options for how to make the stones. You could make a false stone from EPS and cover it with fiberglass mesh and cement to make a stone that's lighter-weight than a real one, you could use a cast cement paver from somewhere like Home Depot, or choose a real stone to decorate.
• The tesserae must be frost-proof, either made from glass, stone or exterior tiles
• Tesserae must be attached using a frost-proof adhesive like thinset or silicone (not mastic)
• Grout will help to further weather-proof the design
The Process:
1. Sign up using the Signup Genius link.
https://www.signupgenius.com/go/30E0B4BAEAD2FA3FE3-create
2. Choose a frost-proof substrate.
3. Make your mosaic using a frost-proof adhesive and grout it
4. Connect with Emily to figure out a plan for drop-off, pick up or shipping. Email Emily at
emily(Replace this parenthesis with the @ sign)connectionlab.org . We can pick up the finished products if you're not too far
from Somerville (while staying 6 feet away), and the USPS offers a few sizes of flat-rate
boxes that don't cost more to ship if they're heavy, so you could plan to make a stone or
paver to fit into one of them.
Below are a few photos of some outdoor-safe substrates and a simple example on a real stone.
It's about 5 inches across and 3 inches high.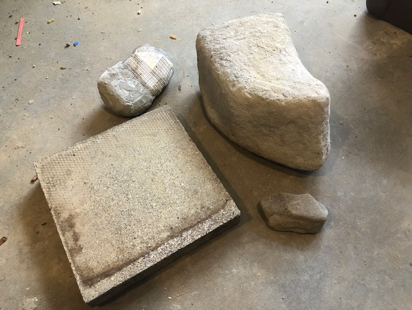 NEMS Online Webinar Series, May, 2020:
Introduction to External Mosaics
Speaker: Bonnie Fitzgerald, is the founder and owner of Maverick Mosaics in Vienna, VA. She is dedicated to providing mosaic education through workshops and art travel.
This Webinar has already taken place.  To view the YouTube recording, CLICK HERE.
This webinar will be beneficial for anyone interested in creating mosaics for outside applications. Bonnie's presentation kicks off with a picture presentation and comprehensive review of all materials suited for exterior applications including glass and ceramic. Selecting substrates, materials and adhesives that will endure weather year round is the secret to successful exterior mosaics and all aspects will be covered and discussed. The picture presentation will show lots of fantastic exterior works by artists from around the world. Q&A following.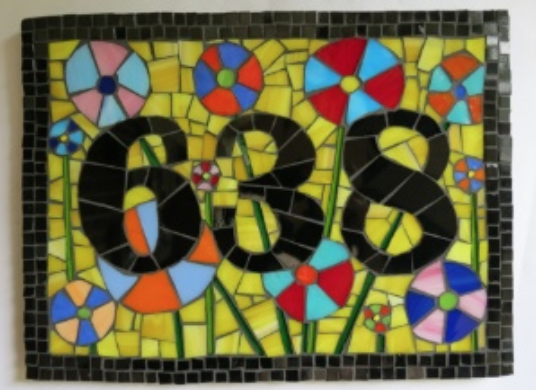 NEMS Online Webinar Series, April, 2020:
Tiffany Mosaics at Ayer Mansion
At Home with Louis Comfort Tiffany: Tiffany Mosaics at the Ayer Mansion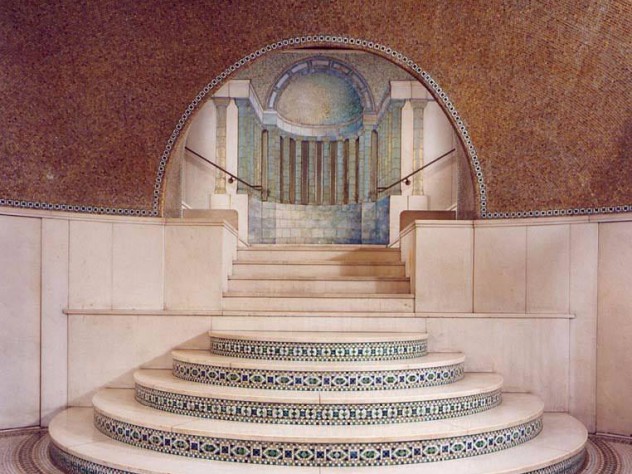 Speaker: Jeanne M. Pelletier, Preservation Advisor, Campaign for the Ayer Mansion, Inc.
While known today primarily for his elaborate lamps, favrile vases, and magnificent stained glass, Louis Comfort Tiffany was in his day also a sought-after interior designer, pioneering the concept of the house and home as a cohesive artistic masterwork.  An amazingly versatile artist with an equally powerful ego, Tiffany applied his design skills successfully to a wide range of media, including mosaic, metalwork, plaster, woodwork, furniture, and architecture, as well as stained glass. Entrepreneur and art-collector Frederick Ayer and his second wife, Ellen Banning Ayer, scandalized Boston society by bringing this innovative New Yorker to Boston to design their exotic new residence. In this presentation, Preservationist Jeanne M. Pelletier explores Tiffany's ground-breaking interior and exterior mosaics on Tiffany's sole surviving residential commission, Boston's Ayer Mansion, built in 1899-1902.
Participate in a Community Service Project
Emily Bhargava is creating two sculptural tree trunk seats for a small new butterfly garden in Somerville, MA.  She would like help in creating and mosaicking the frost-proof cement seats. This would be a perfect opportunity to learn about the process of creating 3D weather-proof styrofoam mosaic bases and mosaicking with thinset.  
All are welcome to help. Two cement and four mosaic tiling sessions (using thinset) are also scheduled. Because the weather isn't always on our side in January, March or April, we'll work in Emily's garage studio in Somerville, MA. Snacks and good music will be provided.
THIS HAS BEEN CANCELLED DUE TO COVID-19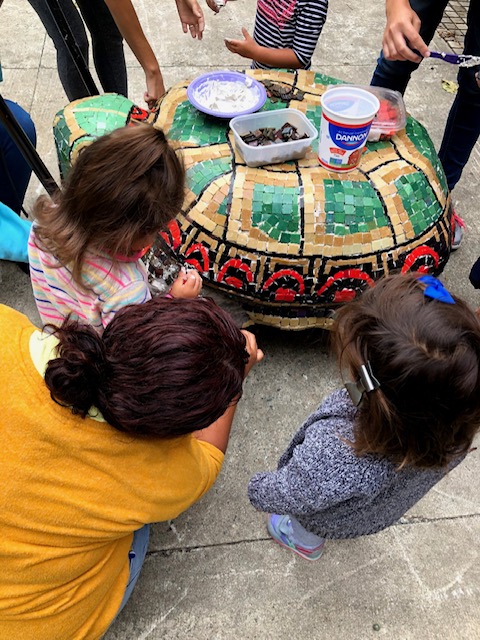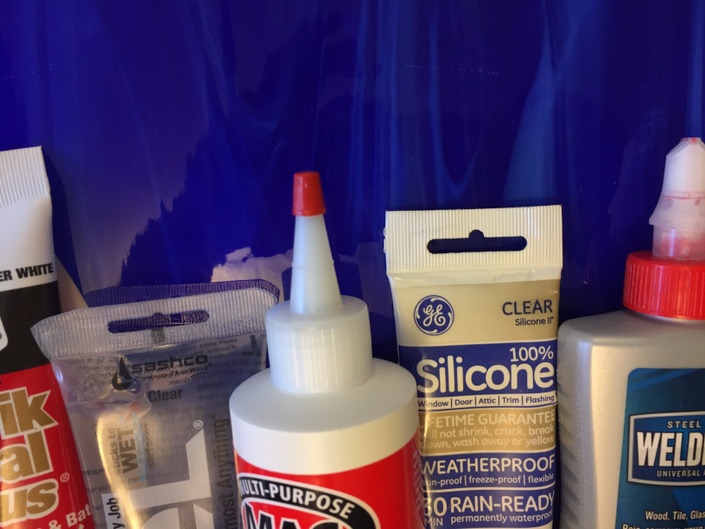 NEMS Online Webinar Series:
The Best Adhesives for Your Mosaic Projects
Speaker: Tami Macala, Mosaic Artist, All Cracked Up Mosaics, Founder of the Santa Barbara School of Mosaic Art and Mosaic Arts Online
This webinar has already taken place.  To see a recording click on this link:   ADHESIVES WEBINAR
Which is the right adhesive for your project? Which adhesives work best with which substrates? How do the materials impact the adhesive you use? Tami will talk about an array of adhesives she works with; which ones are good for different environments and which work better with specific tesserae. She'll focus on Weldbond, MAC, other silicone-like glues, mastic and thinset including Laticrete's new 257 Titanium. A Q&A session will follow the webinar.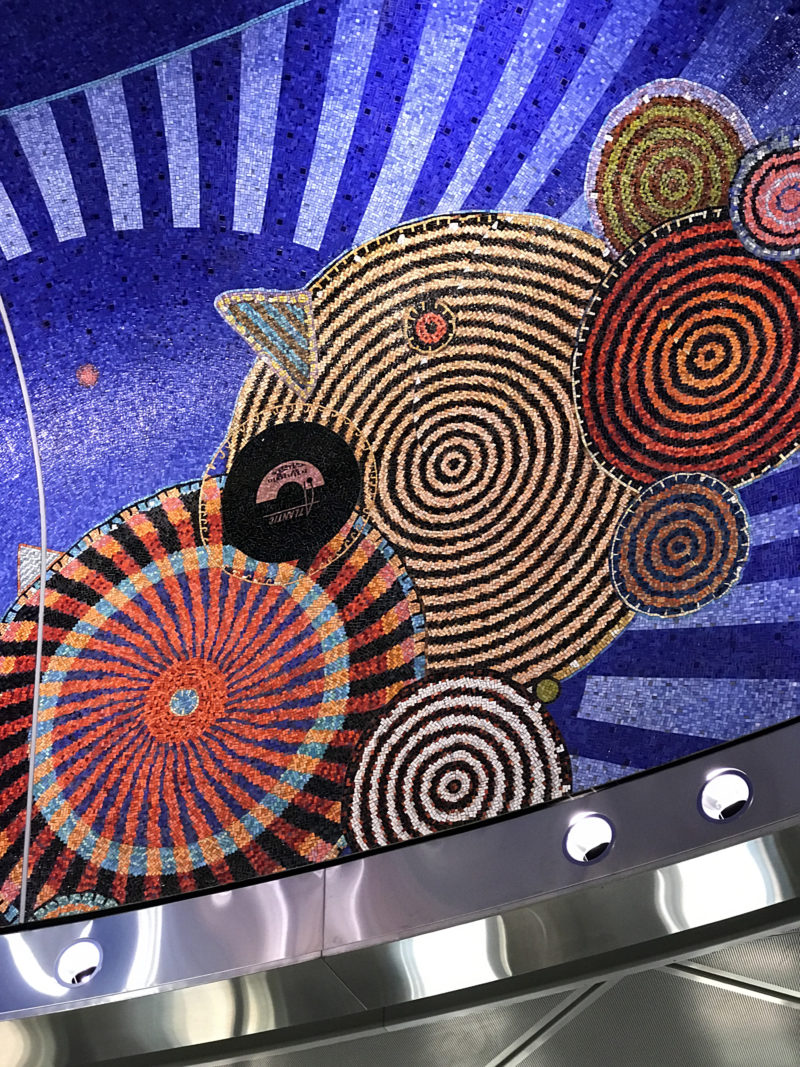 NEMS Online Webinar Series
New Mosaics on the NYC Subway System
Speaker:
 Cathleen Newsham, mosaic artist and owner of Modern Mosaic Arts, which specializes in the design, fabrication and installation of architectural mosaics for commercial and residential clients.  Cathleen is also a mosaic educator and conducts comprehensive tours of New York City's subway mosaics.
This webinar has already taken place.  To see a recording click on this link:   

SUBWAY MOSAIC WEBINAR
The New York City subway system is an immense underground museum with the largest collection of mosaics in North America. As a professional mosaic artist, Cathleen will be explaining the process of how some of the newer mosaics were designed, fabricated and installed, giving participants insight into the complex process of creating a large-scale smalti mosaic mural.   Question and answer session to follow.  Information on how to sign up for future tours will be given at end of webinar.
NEMS Online Webinar Series: The Skills You Need for Public, Community Projects and School Residencies
This Webinar occurred on Tuesday, November 19th, 2019.  If you missed it, click on the link below to view the webinar in it's entirety:
To VIEW WEBINAR, Click Here and you will be brought to YOUTUBE to view the webinar
Debora Aldo has been a professional mosaic designer, fabricator and installer since 2005. Over the years, she has created dozens of architectural mosaics, some of which will be featured in this presentation as an overview to give viewers a sense of what is required to do these types of projects. Debora will talk about how she acquired her skill set; the positive and problematic issues that arise doing commission architectural work, and will discuss how to facilitate school or community projects. There will be a Q&A following the presentation.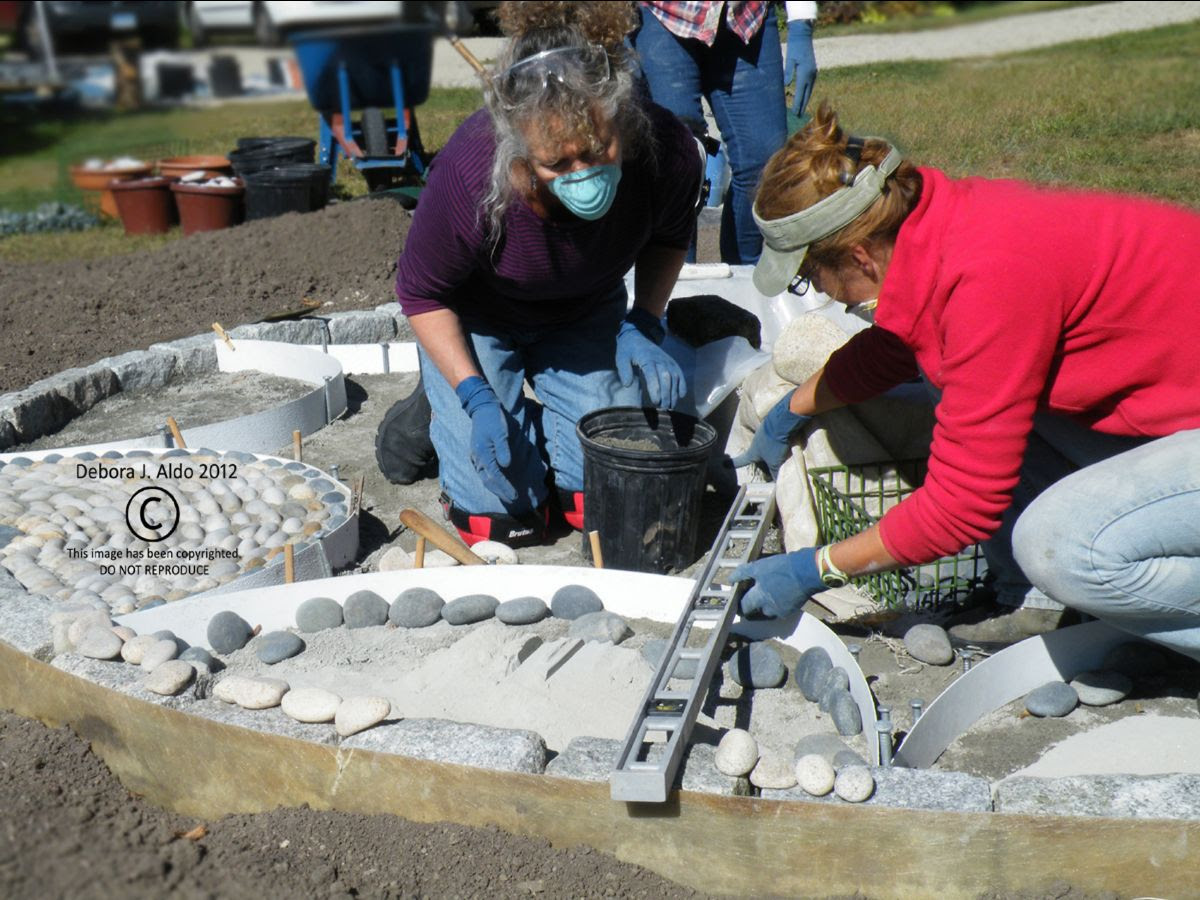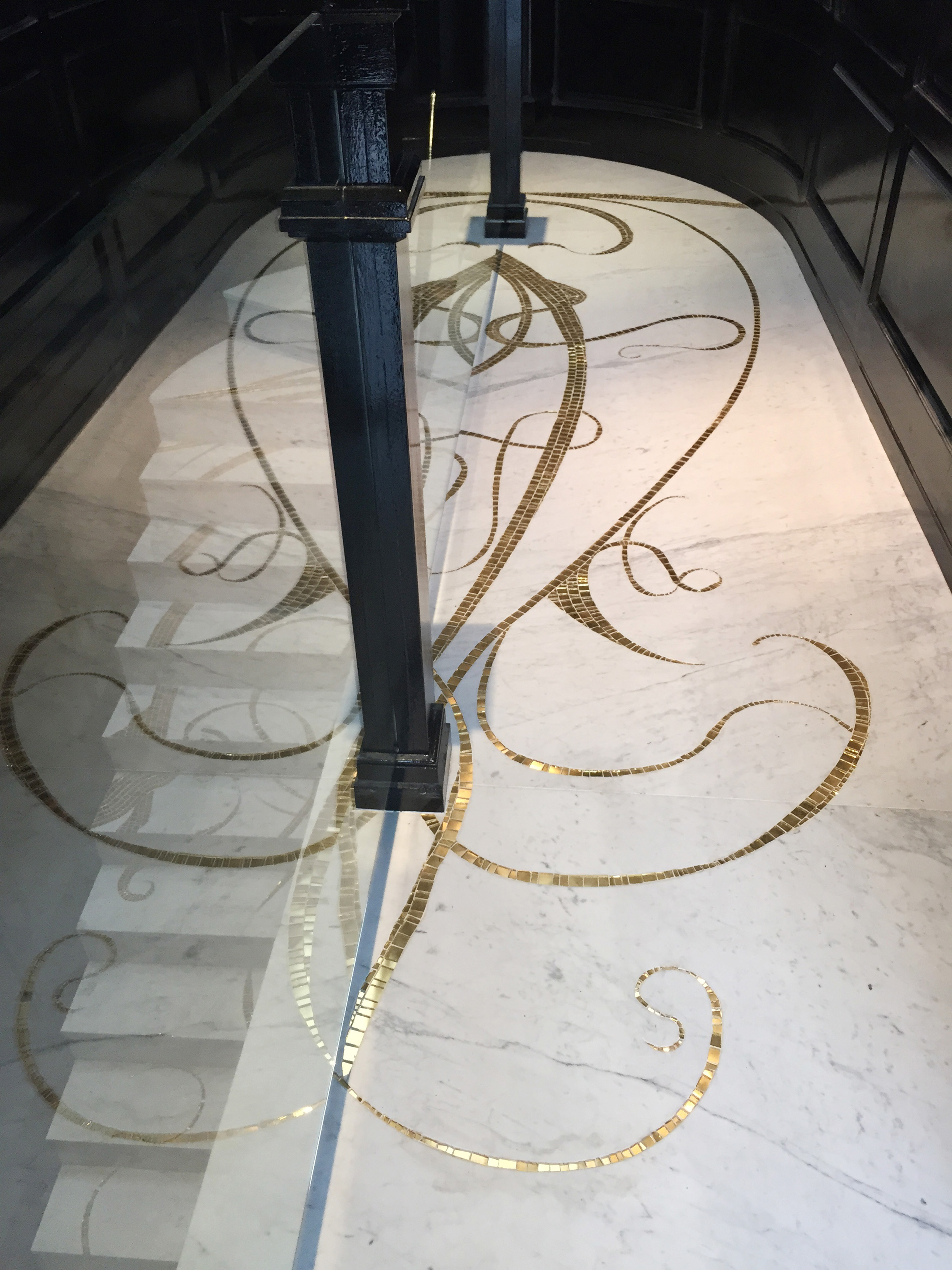 NEMS Online Webinar Series: How I Made It – SOHO Penthouse Gold Mosaic & Marble Floor
Speaker: Cathleen Newsham, Creative Director & Founder, Modern Mosaic Art
This Webinar occurred on Tuesday, May 21st.  If you missed it, click on the link below to view the webinar in it's entirety:
To VIEW WEBINAR, Click Here and you will be brought to YOUTUBE to view the webinar
Cathleen Newsham will provide a step by step description of how she created this stunning floor mosaic for a New York City penthouse.  Unusual and complex in both fabrication and installation, her approach to problem solving and construction issues will help mosaic artists at all levels understand the challenges of architectural mosaic work and how to approach even the most perplexing project.  The tools and materials used will be discussed and participants will have a chance to ask Cathleen questions following the presentation.
NEMS Online Webinar Series: How I Made a 3-D Sculptural Mosaic Garden Bed
Speaker: Carol Krentzman, Artistic Director & Founder, Mosaic Art Institute of Natick
This Webinar occured on Tuesday, March 26th.  If you missed it, click on the link below to view the webinar in it's entirety:
To VIEW WEBINAR, Click Here and you will be brought to YOUTUBE to view the webinar
Carol will take us through the process she used to make her 3-D garden sculpture. She'll discuss how she sculpted the foam and covered it with mesh, concrete and tile. She'll talk about the challenges this project presented and how she overcame them to create a bed that is approximately 4'x 5'x 2′ and weighs about 500 lbs.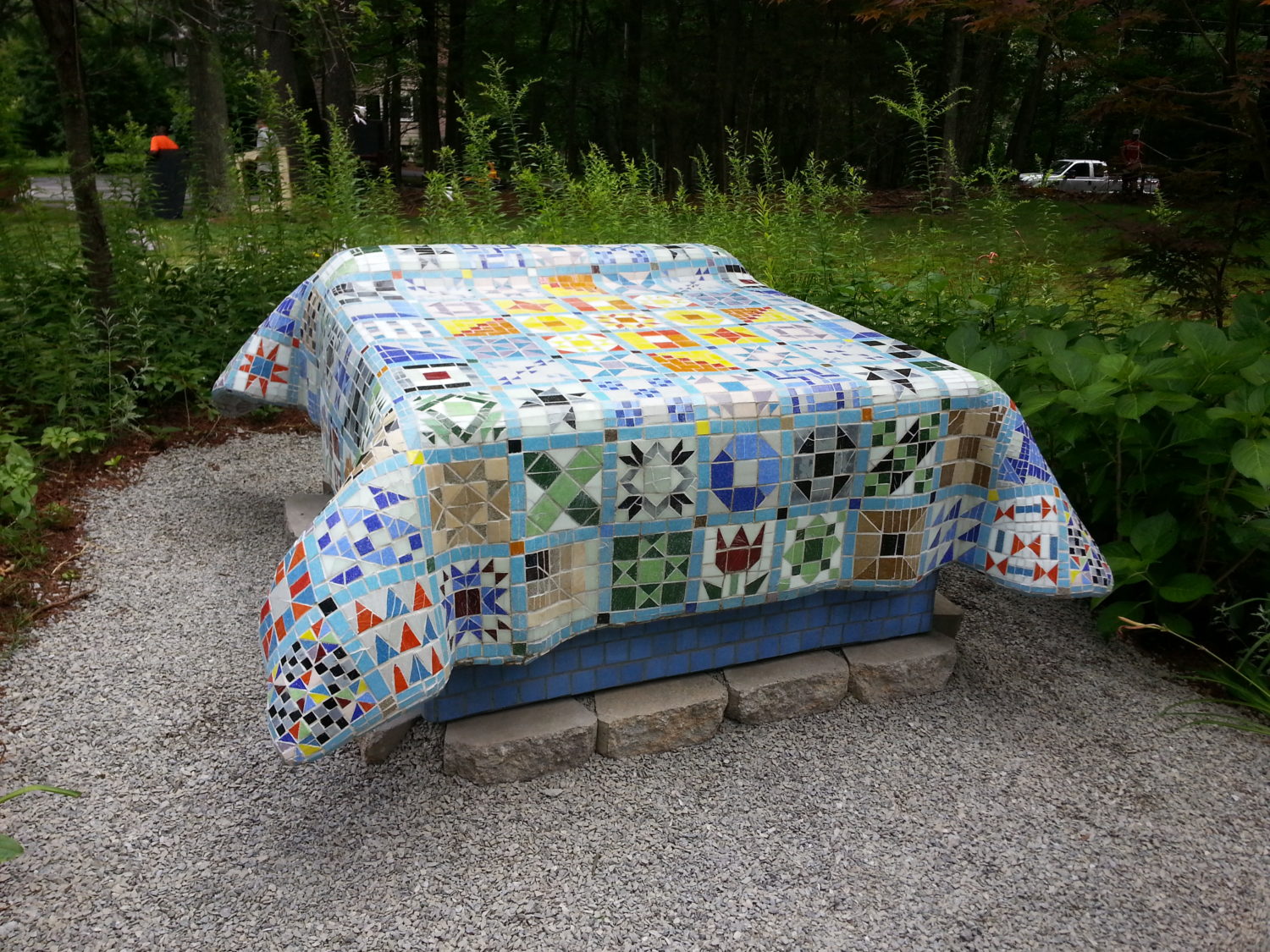 NEMS Online Webinar Series:  All About Substrates and Adhesives
This Webinar occured on Tuesday, February 26.  If you missed it, click on the link below to view the webinar in it's entirety:
To VIEW WEBINAR, Click Here and you will be brought to YOUTUBE to view the webinar
Featured Speaker: Lou Ann Weeks, mosaic artists and cofounder of Skeew.biz, a mosaic supply company that specializes in mosaic backers, co-producer of Mosaic Technique Videos, and editor of I-CMosaics.com.  How do you know which substrate (backer) is the right one for your project, and what is the right adhesive?  There are so many to choose from, and in this webinar, Lou Ann will help you make the right decisions. You'll learn what criteria to consider before you start mosaicking. She'll bring it all together and answer your questions during a Q & A period at the end of the webinar.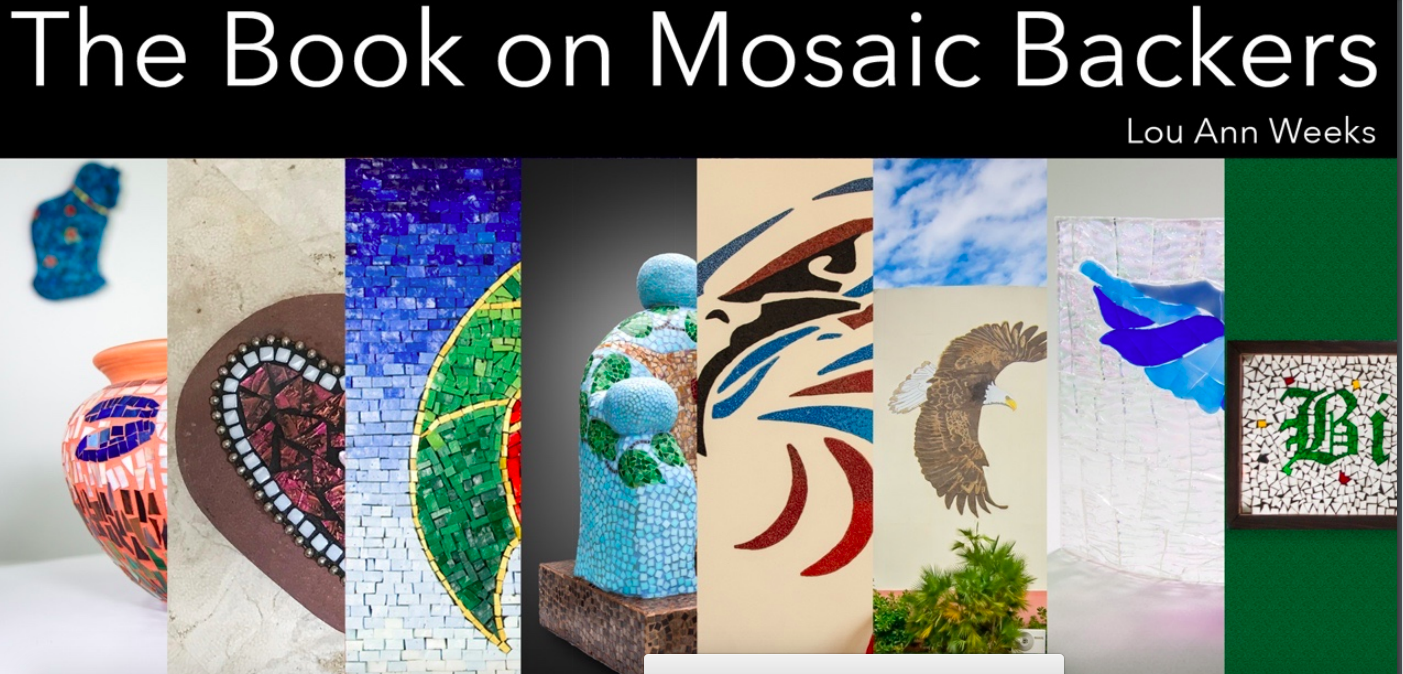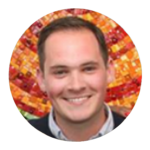 Be Our Guest Interview with Michael Ferreira
NEMS President Michael Ferreira was recently interviewed by Be Our Guest in Acton MA.
Cancellation Policy: 
If you sign up for a NEMS tour or event through SignUpGenius and need to cancel for any reason please take yourself off of the SignUpGenius list. This will help us do final planning for the day of the event or tour. 48 hours of cancellation notice is preferred (for reservations, tickets, etc.). Thank you for your cooperation.