The Benefits of going to a SAMA conference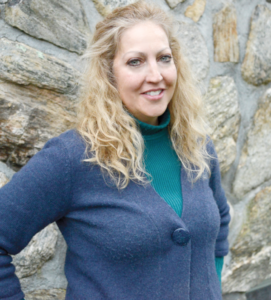 A message from Deb Aldo:  Dear NEMS Members- As the Co-Chair of SAMA I'd like to give you a bit of background on my mosaic journey and let you know about some of the benefits of attending the conference.  I started to make mosaics in 1997. Back then there were no associations near me, no one teaching classes, just books in a library which were dated and dog eared but fascinating nonetheless.  When I started, my work was not very good. I worked in the landscape and construction industry, earning my degree in Landscape Architecture. I joined SAMA and quickly found others who were on a similar mosaic related trajectory. SAMA provided an opportunity to focus on what I wanted out of mosaics: The pursuit of general knowledge, history, process and technical skills. To my surprise, I actually became a "real" artist.  I took classes for years at the conferences and was the recipient of the Robin Brett Scholarship, a terrific learning and traveling experience. Becoming a professional mosaic artist occurred in part because of SAMA. As some of you may know I work locally and nationally and on large scale architectural installations with a specialty in pebble mosaics.  Not everyone who makes mosaics wants to make a living at it. For many it is an escape and release from daily stressors. Even if you make mosaics as a hobby they are a creative endeavor, they feed the soul, they help get us out of ourselves and deeper into ourselves. Art makes people happy, so does making it.
Here are a few other reasons that you should get to this conference while it is in your backyard!
 1. The conference is NEVER less expensive than when it's local. Yes, we know, New England is a big place but considering that both Detroit and Philadelphia were close, both were still a plane ride and a hotel stay away. Drive or train in and out, stay with a friend. This may be the only time SAMA will be in New England.     "Are there any NEMS members who would be willing to host out-of-towners so they do not have to pay for a hotel?" Glynda Benham, SAMA Boston 2018 Co-Chair
2.  Connect  with other like minded individuals. Some are regular folks, some are more "name brand" but everyone is willing to share their company and their knowledge. Many who have gone to multiple conferences are still friends with folks we met at the first conference.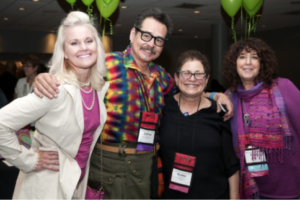 3.  World class instruction, business classes and just for fun classes. You can learn new skills in a matter of days.
4.  Cory Huff is speaking this year. He is an artist and  mentor on marketing and the business of art. He's an excellent speaker talking about useful information! A must see.
5.  There are two major exhibits at the conference- IMA and the Invitational. The participating artists have been honing their craft for years. The is a range of styles, materials, storytelling, intellectual process or just breathtaking beauty to behold. The exhibits are filled with creative original work. Looking at their art is an inspiration which often leads to an urge to make better art because you now know what better is!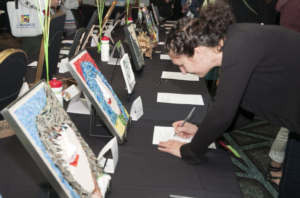 6.  A mind boggling array of events, only  a few are listed here: Meet up Meals, Mosaic Salon where SAMA members can sell their non juried work. Volunteer opportunities, Tours in and out of Boston, a swag bag filled with info and mosaic goodies, events both at the conference and throughout the city.
7.  Mosaic Marathon- The opportunity to have social and mosaic experience on a large scale public project. Anyone at any level can show up and work for an hour or for days on end.
8.  The Cafe, and other lecture series, Professional Development, hours of relevant lectures all mosaic related.
9. Total immersion into the mosaic world for a few days. With lasting impressions and resulting friends!
10.  NEMS is offering a scholarship of $150 off the conference fee to the first 10 people who register with SAMA. Provide proof of registration from SAMA and  NEMS sponsorship fund will reimburse $150. First come first served, preference to those who have NOT been to a SAMA conference. Available to NEMS members with current registration.
A few words from the new Vice President of NEMS and another of our members who is a long time conference attendee-
"I had the opportunity to go to the SAMA conference last year in Detroit.  I am relatively new to the mosaic community and did not know what to expect.  What a got was more than I could have imagined.  The opportunity to be with others that have the same passion. Seeing the exhibits was absolutely amazing.  I met people who truly enjoyed discussing their art and how they  work.  The other fun thing for me was the vendor marketplace: I was able to see and touch before purchasing new materials. found the vendors to be very  knowledgeable.  With the conference in Boston this year it is a tremendous opportunity for us all to go!" Beth Goulet
"If you're connected with NEMS you have taken the step to meet people in the New England area who are involved with making and appreciating mosaics. Going to the SAMA conference extends that step to the next level:   Those NEMS members who are professional mosaic artists, who teach their techniques and show their work nationally and internationally are almost all SAMA members and have been attending the conferences for years. NEMS greatly benefits from their expertise and from the associations they have made with other professional, talented mosaic artists from around the country and the world. At a SAMA conference you are right in the thick of it, shoulder to shoulder meeting people you wouldn't otherwise, seeing pieces of art up close that you usually see in a book or on your computer screen. Being exposed to art and artists working in the highest level of mosaic art is an experience not to be missed."  Carol Cataldo
---